Academics from across Alliance MBS took part in the Manchester Festival of Climate Action in October. The festival was an opportunity for experts and students across the University to be involved in the conversation around COP26. Jennifer Rose, Lecturer in Accounting and Finance at Alliance MBS, hosted a lecture alongside a panel of Full-time MBA students from the Class of 2023.
The session explored how teaching accounting needs to change to reflect climate change risks, which students care deeply about. Jennifer explained how she links climate change to accounting, and how the risks climate change poses to the global economy can be taught in novel and informative ways which challenge the status quo.
Sian Leake from the Full-time MBA Class of 2023 was one of the students who spoke with Jennifer Rose.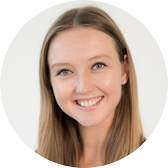 Before the MBA, Sian studied a BSc in Environmental Science and worked as an environmental consultant at an engineering consultancy for six years. "I do believe that environmental consulting is an important industry considering the rapid onset of climate change and the urgent need to respond to it."
Sian chose to study her MBA at Manchester due to its top ranking for CSR. "I didn't think there would be so much coverage of sustainability, but it is touched upon in all my modules, even accounting."
Being involved with the Manchester Festival of Climate Action was a great opportunity for Sian and the content of the lecture was a new topic for her. It was very different to environmental science so she relished the chance to be involved. As an MBA student with an environmental science background, she understands the benefits of creating a standardised way of valuing nature that all companies are then held accountable for. "Valuing the environment helps businesses better understand its importance to their business operations."
Sian enjoyed discussing climate action with people from a variety of backgrounds. "We are leaving the planet in dire straits for future generations. We need businesses to take sustainability more seriously and to integrate it into all aspects of their activity to limit the climate impact of their operations. Tackling climate change will be a collective effort, so we need to continue these interdisciplinary conversations."