Personal and Organisational Resilience
Learn to lead with greater resilience and improve the adaptability of your team.
The only certainty in business is uncertainty, which is why it is crucial that business leaders have high levels of resilience in order to succeed.
On this course, you will dissect the concept of resilience and sharpen your capabilities and confidence needed to overcome adversity. By exploring strategies, processes, and tools, you will expand your self-awareness and build a better understanding of how to boost resilience within your teams.
You'll also learn how to better anticipate challenges that may arise within your organisation and explore recovery trajectories that help you bounce back from adversity.

£4,800

4 days

2-5 Jul 2024

Face-to-face

Manchester

Contributes to the Manchester Professional Diploma in Leadership
Key information
This course is designed to develop resilience capabilities around four core objectives:
1. Taking stock - Understand your personal resilience:
Understand the concept of resilience in leadership
Gain self-awareness of your personal resilience and identify your patterns in reacting to change and challenges
Analyse your developmental readiness and identify drivers and barriers of professional growth and wellbeing
2. Developing self-resilience - Thrive in the face of continuous demands and challenges:
Understand key enablers of resilience building
Develop capabilities for better stress management and coping strategies to persevere in the face of high demands
Develop confidence for digital leadership challenges such as virtual leadership and remote communication
3. Bouncing back - Responding confidently to adversity and recovering from setbacks:
Understand resilience processes and recovery trajectories
Anticipate and avoid leader derailments
Acquire strategies for building career resilience
4. Developing resilience in others
Understand how to build resilience in individuals and teams
Develop strategies to guide others through challenges
Understand how to create team cultures for resilience
There will be a networking drinks reception on evening one where you will get to know your course colleagues. There will also be a course dinner on evening three, offering the opportunity for your class to come together with a wider cohort of short-course learners to expand your networking opportunities.
Built with the aim of connecting theory to practice, this course will help you gain valuable industry insights from world-leading experts through a variety of teaching and learning methods.
Delivered face-to-face at Alliance Manchester Business School's Executive Education Centre, you will take part in collaborative workshops, group discussions and activities that support you in building your personal and organisational resilience.
During your time on this course, you will gain several stand-out learning experiences, including:
Applied Learning - A learning environment created by the course facilitator that draws on the experience and input of your course peers.
Knowledge Transfer - A steady stream of feedback from participating peers with diverse business backgrounds to help build your leadership skills.
Reflection - A rare time-out to contemplate your own leadership capabilities and challenges while engaging with our world-class experts in the marketing field.
Network Expansion - An expanding professional network drawn from your peers.
Personal Growth - An expanding self-awareness of your own marketing competencies and how they can be honed.
Behavioural Change - An adoption of new rationales and mindsets that improve your managerial skills.
Gain the leadership capabilities needed to steer through a crisis with confidence
Learn the key solutions to avoiding high staff turnover and burnout, both in yourself and your team
Draw upon a varied toolkit of resilience diagnostics to increase your self-awareness
Identify drivers and barriers to your own professional growth and wellbeing, and how you can utilise and overcome them
Gain expert insights through real-world case studies and industry speakers
Become a member of the AMBS Executive Education Network and benefit from top-class speaker events, regular updates, and networking opportunities with like-minded professionals
How your organisation benefits
Increase your organisation's sustainable success through high resilience tactics
Build an impenetrable culture of high resilience within your organisation
Implement effective stress-management techniques into your workforce
Lead your team to respond confidently to setbacks and recover from unforeseen challenges
Bring evidence-based, contemporary learnings on resilience to your workplace to help empower the next generation of resilient leaders
This course is designed for business professionals who regularly face new challenges and demands and are looking to gain the capabilities needed to thrive in this environment, and build resilience both in themselves and their teams.
If you work in the private, public, or not-for-profit sector and want to confidently transition into new responsibilities or expand your existing skill-set when handling adversity, this course will help you understand the powerful role that resilience plays in shaping organisations and individuals.
Course leads Geoff Thomas, Professor of Organisational Psychology and Sara Willis, Senior Lecturer in Organisational Psychology, bring together a variety of academic and industry experience in the area of leadership development.
As a former consultant at Deloitte, Geoff has over 20 years' experience delivering executive education programmes for clients across both the public and private sector.
After completing her PHD in Organisation Psychology at Alliance Manchester Business School, Sara now teaches a master's programme which focuses on connecting theory with practice, demonstrating how key learnings and frameworks can be implemented into a variety of different work environments.
Upon successful completion of this short business course, participants will be awarded the Manchester Professional Certificate in Personal and Organisational Resilience.
You will also receive a digital Manchester Professional Certificate in Personal and Organisational Resilience from Accredible, in the form of an online certificate and badge which can be displayed on LinkedIn profiles and represents completion and participation in the course.
You can choose to curate your own curriculum by attending any four courses from our extensive portfolio. On completion of the four courses of your choice, you will be awarded the Manchester Professional Diploma in Leadership.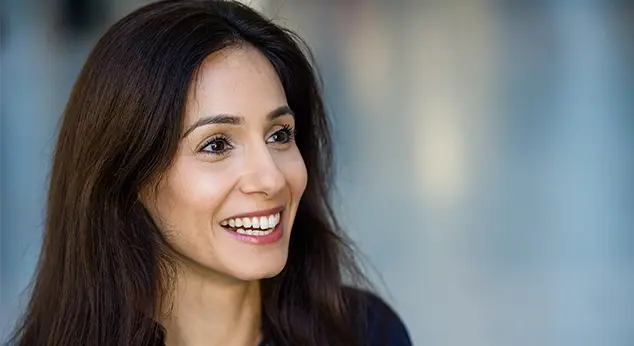 Speak to a team member
If you have any questions or would like to chat to us about this course and how it could benefit you, please get in touch with the course advisor.