Our Global MBA Experts
We are ranked 3rd in the UK for research power by the Research Excellence Framework, and our experts are globally-renowned for research excellence across all areas of business and management. They will share their original thinking – and nurture yours.
Our experts are at the forefront of business and management thinking across a range of specialisms. Many of our academics have a background in industry and they all have extensive links with public, private and third sector organisations around the world. They lead debate, influence opinion and policy, and drive change. Here are some of the experts who could be shaping your MBA experience at Alliance MBS.
Here is a selection of the experts you will work with as a Manchester MBA.
Global MBA directors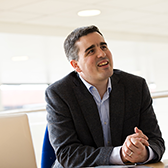 Xavier Duran Martinez
Director, MBA Programmes
Xavier Duran Martinez
Director, MBA Programmes
Xavier is responsible for the strategic direction of MBA programmes and the development and delivery of transnational education (TNE) at Alliance Manchester Business School. Key to these responsibilities is ensuring both that the MBA curriculum is kept current, innovative and fit for purpose and that more than 2,000 students on our MBA programmes receive an outstanding learning and administrative experience. Xavier also works with colleagues in all parts of the business school to coordinate the development and delivery of TNE activity.
Xavier has contributed to our MBA programmes since 2003, first in an academic capacity, teaching Economics of Strategy and supervising final projects and, since 2012, as Associate TNE and MBA Director. He took up the role of MBA Programmes Director in March 2018.
Xavier is passionate about innovation in business and management education and meeting the new demands posed on MBA programmes by technology improvements and a highly dynamic and globalised business environment.
×
Nia Watkin Jones
MBA Assistant Director
"The well-balanced delivery methods, which include online tutorials, discussion forums, workshops and optional overseas study, make learning very flexible and a lot of fun."

- Kevin Miao, Staff Program Manager, Qualcomm, China
Discover more about the
Take the next steps