Full-Time MBA: The Manchester Method
We don't just give you the theory; we show you how to use it to get the results you want.
Alliance Manchester Business School was a pioneer in experiential learning and our academics developed the Manchester Method in the 1960s. Our approach focuses on group work, practice-based learning and reflection.
Our practical approach produces highly employable MBAs who challenge the status quo in a complex and rapidly changing world. Through the Manchester Method, you will learn to:
Take structured and data-informed approaches to decision making
Lead and work effectively with multinational groups
Reflect critically and analytically
Examples of The Manchester Method on the Full-time MBA:
Group work with a diverse multinational class
Three increasingly complex live client consultancy projects, equivalent to at least 900 hours

Not-for-Profit Consultancy Project
Commercial Business Consultancy Project

Simulated Mergers & Acquisitions Project
10-12 week internship (optional)
Regular reflective sessions with an external practitioner
Business Simulation (optional)
Business competitions
Practical case studies
MBA+ personal and professional development activities
Live client consultancy
Live consultancy projects sit at the heart of our MBA, giving you constant exposure to strategic decision-making in real companies and organisations.
We believe there is no better way to prepare for a career in senior management. As a Manchester MBA, you will complete three live consultancy projects, as well as a simulated Mergers & Acquisitions (M&A) Project to gain practical and academic knowledge of M&A. You won't get this amount of hands-on experience from any other MBA.
MBA consultancy projects are a great opportunity to learn about new sectors, make contacts, and gain solid experience for your CV. As you progress through the programme, the projects will become more complex to widen your knowledge, challenge you, and help you develop. You will tackle each project in small, multinational teams, helping you build valuable cross-cultural understanding and knowledge.
"By the second week of induction, teams are already face-to-face with an external client from the third sector scoping out their first project. Then comes a simulated Mergers and Acquisitions project, followed by the live Commercial Business Consultancy Project, this time involving a competitive bidding stage. The programme finishes with three months' full-time consultancy for a global business, involving international travel. The projects bring the lecture and textbook material to life.."

- Dr Mike Arundale, Senior Lecturer in Strategy
Not-for-Profit Consultancy Project
Local clients from the third sector
1.5 days a week for 12 weeks
Example clients:

Action for Sustainable Living
After Adoption
Age Concern
Air Ambulance
Big Life Group
Foundation for Peace
Henshaws Society for Blind People
Intensive Care Society
National Football Museum
National Trust
People's History Museum
Prison Advice and Care Trust
Royal Commonwealth Society
Victim Support
YMCA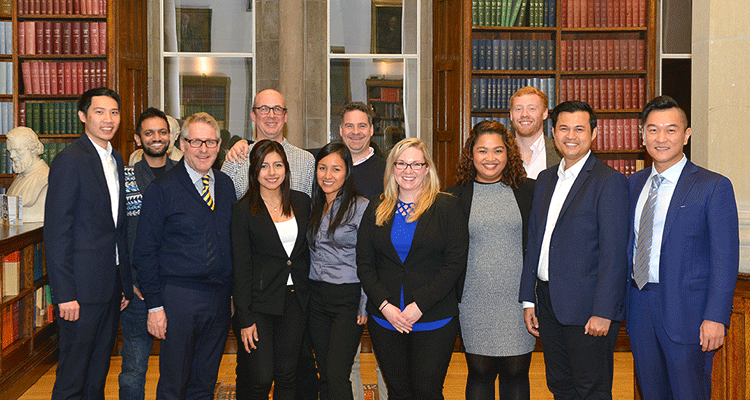 An MBA project group celebrating with clients
Commercial Business Consultancy Project
Equivalent to two days a week for 10 weeks
You will have the opportunity to bid for a range of clients across many industries. Recent clients include:

Start-ups:

AI Wind: Technology
Behind Bars: Design
Biramis: Consulting
Canine Academy: Training
Centre for Community Finance Europe: Financial services
Env Friendly: Technology
Klick Technology: Furniture
Life 1000: Biotechnology
Liverpool ChiroChem: Chemicals
Music in Mind: Music
Owen Drew: Retail
Plastic Circular: Environmental
PlayDale: Manufacturing
SA Systems: Technology
Victor Mobile: Telecommunications

SMEs:

AD Aero: Aerospace
Brompton Bikes: Manufacturing
GB Partnerships: Property development
iPortalis: Software
My Digital Accounts: Software
Platinum Stairlifts: Manufacturing
Property Alliance Group: Property development
Sofa: Retail
Swann Group: Engineering
TalkTalk: Telecommunications
Travis Perkins: Retail

Multinationals:

KPMG: Professional services
Cisco: Technology
International Business Consultancy Project
International field work
Full-time for three months
You will have the opportunity to bid for a range of clients across many industries. Recent clients include:

Multinationals:

AO.com: E-commerce
American Tower: Telecommunications
AstraZeneca: Pharmaceuticals
BASF: Chemicals
BP: Oil and gas
Callcredit: Information services
Cipla: Pharmaceuticals
DCC Energy: Energy
Gerdau: Manufacturing
GSK: Pharmaceuticals
Grupo Bimbo: Manufacturing
Hilti: Construction
Ishida: Manufacturing
Landmark Group: Retail
Lycamobile: Telecommunications
Mastercard: Financial Services
Nichols Vimto: Manufacturing
Roche: Healthcare
Siemens: Electronics
W L Gore: Manufacturing
Victrex: ManufacturingMultinationals:

SMEs:

M&I Materials: Manufacturing
My Digital Accounts: Software
Stephenson Group: Chemicals
TrakGlobal: Information technology

Start-ups:

Air Black Box: Software
Manchester Innovation Factory: Innovation
Original thinking. Applied themes.
At Alliance MBS, applying original thinking is at the heart of everything we do. We structure the Manchester MBA around four practical themes, that reflect the business world. Our real-world focus develops reflective leaders who can navigate global challenges.
Theme 1: Management in Practice
How can we understand today's complex, uncertain business environment and overcome the challenges of leading and managing in a rapidly-changing world?
What you will study:
Our course 'Leading and Managing in a Global Environment' examines current business environments using the practice-based Manchester Method. It encourages you to reflect and engage with the historical, cultural and ethical considerations that should underpin any commercial decision.
'Exploring Management and Business Practice' is an inquiry-based course that focuses on the realities of management in practice and current developments in business. You will develop practical knowledge and skills for senior level roles in business and other sectors.
Theme 2: Value Creation in Business
How do contemporary businesses create value? We explore this question from both an academic and commercial perspective. Our teaching emphasises the interdependencies – and interrelationships – between the operational, tactical and strategic functional areas of an organisation
What you will study:
Operations and Marketing
Business Accounting and Finance
Strategy and Competition
Not-for-Profit Consultancy Project
Commercial Business Consultancy Project
Mergers and Acquisitions Consultancy Project
Theme 3: Tailoring Your Journey
Customise your MBA experience with options ranging from elective courses and internships to study tours and live client-facing projects. Our network of global centres, relationships with multinational companies and partnerships with overseas institutions provide the opportunity to build a truly international CV.
Your options:
Elective courses with workshop residencies at our centres in Dubai, Hong Kong, Manchester, Shanghai and Singapore. We also deliver workshops in additional locations (currently Tokyo)
Overseas study tours
Three-month international exchange
10-12 week internship
Theme 4: Professional Skills for Business
Which professional and personal competencies do successful leaders require? You will identify and develop these qualities through lectures, workshops and individual guidance sessions. You will also gain access to business practitioners, careers support and our alumni network. This will support you as you plan and execute your post-MBA strategy.
Your options:
Weekly Guest Speaker Series
MBA+ Careers
MBA+ Competitions
MBA+ Social
MBA+ Alumni Events and Activities
Discover more about the Manchester Full-time MBA
Take the next steps