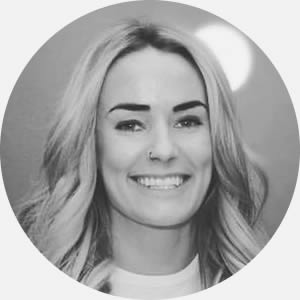 Ahead of the She's The Business event on 15 November - aimed at young women with great business ideas - we're speaking to some of our guest speakers about their entrepreneurial journey. Kettlebell Kitchen was launched in March 2016 and is the brainchild of Carley Jones, a cross-fit enthusiast who was tired of struggling to eat clean food in a convenient location whilst training.
Kettlebell Kitchen is Manchester's first healthy, fast food restaurant and takeaway aimed at gym-goers. All meals and drinks are made on site and with meal-prep, catering services, dog-friendly environment and loyalty card scheme, aims to offer a unique experience for health-conscious food lovers.
Carley's mission is to have a Kettlebell Kitchen in every major city by 2020.
How did you get the idea to start your business?
I part-owned and ran a call centre in Manchester at the time with 96 hardcore outbound dialling seats. I would finish work and rush to catch the last cross-fit class of the day at 7pm, finishing at 8pm on the hunt for some serious protein fuel!
I would drive home and pass a KFC, McDonalds or Tesco. The choices were naughty food or a boring, time-consuming trip to a supermarket to cook the usual fast 'clean' options which would be an omelette or an unappealing dry stir-fry. Even then you know the meat you are buying is bulked full of chemicals, preservatives, fillers and who knows what else. I thought 'why isn't someone offering other alternatives? Healthy, clean fast food that isn't boring? Somewhere casual and comfortable to rock in, wearing no make-up, gym wear and not feeling out of place?' Everyone thought I was absolutely crazy but I had my vision and I knew I wanted to make this happen. I'd lost my passion for call centres: I worked there for over 13 years. My time to move on had arrived and I was ready to risk everything.
What - or who - inspired you to be an entrepreneur?
I've always been incredibly business-minded myself, being money and success hungry since a very early age watching my dad run his car business and then moving onto his property business with my mum. I'm the type of person that wants to know the costs of everything; sat in businesses working out how much revenue they could be generating each hour; researching about the Trafford Centre and how much things cost to build; watching how things are built. When one person can sit in a restaurant and enjoy their food, I'm sat looking at the décor and counting how many people are walking through the door, I'm one of those geeks! I would say I have haven't been inspired by anyone other than my parents, they had nothing and made a good life for themselves, I always wanted to make them proud of me.
What has been the biggest challenge to date in running your business?
The biggest challenge for me is managing my own excitement and adrenaline. I get myself so positively worked up that I struggle to sleep at times. Lack of sleep is, of course, an absolute killer!
What's been the most exciting or interesting part of being an entrepreneur?
The most exciting part for me is seeing a new unit being fitted out and pieced together. From idea, concept and drawings to bespoke furniture and fittings. I get so excited at the little details! We even had a bespoke dog bar made for our stores as we are dog-friendly, offering organic dog biscuits and a water station. It looks so cool and is a great quirk.
How important is location in setting up a business? Is starting a business in a big city like Manchester a benefit or hindrance for being unique and standing out?
Unique is everything, having a totally new and exciting concept is key. People travel from pretty far and wide to visit us which we never thought would happen. We seem to have become the hub for meeting places after the gym, for business meetings, for cross-fit post workout groups, even kids parties! We appeal to everyone. The location has been vital as well; located on the edge of the city centre was the best idea for our first unit, however, we're not too deep into the city meaning we are pretty busy all day and not just the lunchtime rush. We have so many apartments around us and offices with so much more shooting up around the Ancoats area. Also, being close to Pure Gym helps really us with its 9,000 member count!
Lastly, what advice would you give to any young women out there interested in starting their own business?
To get what you want, you have got to be likeable and tenacious. You have to be straight to the point too, being clear and direct in what you want. My dad always taught me to 'If you want something, don't be shy and pick up the phone' and that is what I do, I will sit and call around until I get what I need or what, until I get the meeting I need or in front of the person I want to see. Being tenacious is everything and being confident, clear and concise!
Thank you, Carley, for providing an insight into being a local entrepreneur and founder.
Carley will be a key speaker at the She's The Business event on 15 November.
Carley's social media channels:
Instagram: @carleyjones10_
Twitter: @carleyjones1
LinkedIn: www.linkedin.com/in/carleyjones/