Every year, as part of the Full-time MBA programme at Alliance Manchester Business School (AMBS), students have the option to apply for internships that they complete over an 8–10-week period. One company many of our MBA students interned with this summer is Amazon.
Three of the students did the "Launch" internship programme: Grant Myers from South Africa, James Hall from the UK and Andres Camacho from Colombia.
Introducing our Launch students
Grant, James and Andres all had very different working and cultural backgrounds before starting their MBA journey. Grant was a Project Manager working for a start-up firm, a role that required technical and mainstream project management. With a degree in engineering, Grant knew he wanted to study an MBA to gain more in-depth business acumen and further his career. Andres was working as a Financial Project Controller for Nokia, covering the Brazilian market. He wanted to push his career forward and after studying a master's in finance, an MBA seemed like the natural next step. Finally, James was an entrepreneur with his own ecommerce company before the MBA. He decided to study an MBA as he had always wanted to work within a big organisation and get the business qualification to match his experiences.
Where they worked
James, who is also the President of the Class of 2022, was living and working in London as part of his Amazon internship. He was set to be moving to Germany to join his team there, but due to Covid plans changed. This change was positive for James as he was very happy working out of the office in London: "The London headquarters in Shoreditch is unbelievable, the atmosphere is amazing, and I really enjoyed my time living in London. So much so I didn't want the internship to end."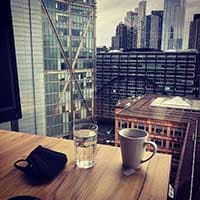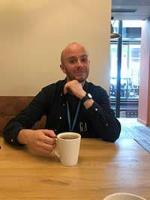 Andres was meant to be relocating to Madrid for his internship, but again Covid and visa applications delayed this. It was an easier decision to move to London and work from the office there. Andres said it was an incredible experience living and working in London.
He said, "The London office is beautiful, with lots of perks. They have IT vending machines where you can get free headsets, mice, keyboards and chargers, and occasionally the Amazon clothes division offer free samples."
Grant was also meant to be working in Germany for his internship and most of his team were based in Munich. Grant, like James and Andres, chose to relocate and do his internship from the London office.
The steps to an Amazon internship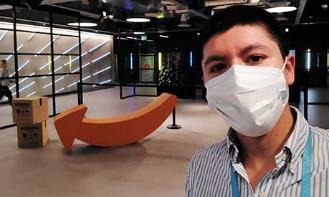 The process of landing an internship with Amazon is very structured, with one test and four rounds of interviews before you receive the offer of an internship. The Postgraduate Careers Service (PCS) support the MBA students through the process from application to offer. This includes CV advice, alumni sessions, individual mock interviews and group mock interviews with last year's interns and alumni.
The three steps to an internship with Amazon include:
Submission of a tailored CV – Amazon do not read cover letters, so it is really important to tailor your CV to show how you match with the leadership principles.
Personality test - there are a number of short activities that Amazon ask you to complete to see how you approach different situations and solve problems that are likely to occur on your internship. Understanding the leadership principles is key for success in these tests.
Four x 45-minute interviews - these are back-to-back on consecutive days with senior management. They focus on how your experience matches with the leadership principles as well as your motivation for joining the programme.
James said, "It was great to have the support from other students in my cohort going through the same process. We would practice interview techniques with each other. Also being able to tap into the AMBS network of alumni, who have gone through this process and now work for Amazon, for advice was priceless."
"Amazon interviews are a notoriously difficult and daunting experience", Grant added. "A lot of preparation goes into the whole process. Also, knowing that the internship could result in full-time employment, it felt like a once in a lifetime opportunity to be in a position to interview for them."
AMBS is one of a small group of top business schools, including London Business School and Harvard, with MBA students doing internships at Amazon. Andres said, "It is great to represent AMBS alongside these schools."
Daily Amazon life
On a day-to-day basis during their internship, James and Grant were working within the team that deals with how you shop on Amazon. Grant said, "We had regular meetings, which encouraged a lot of teamwork and exposed us to a variety of learning experiences and a wealth of Amazon's data and systems. It was extremely fast paced: we were doing everything in such a short space of time as the internship was only 8-10 weeks long."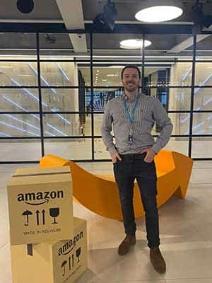 James was working in a more technical and marketing role, constantly trying to improve the customer experience on Amazon.
Andres was working in sales for the EU brick and mortar payment products division. This team covers offline products like gift cards. "I was given projects that evaluate business opportunities and if approved, my boss will launch them within the next year."
Our MBA students relish the opportunity to do an internship with Amazon, especially as a full-time job opportunity can be the end result of the internship process. Grant said that he enjoyed being able to apply what he has learned so far on the MBA over the last 6 months. He also said it was great to get back into the working world for a small amount of time after being a full-time student. James added that the best part of the internship for him wasn being surrounded by incredible and driven people. He said, "The people Amazon hire and retain are amazing and I have really enjoyed being a part of that."
The value of an Amazon internship
"At AMBS we greatly value the relationship with Amazon. The opportunities and exposure they provide for our students significantly enhance their experience, as well as giving them an opportunity to apply their MBA learning in the workplace,' said Chris Garnett, Head of PCS. He added that, from the perspective of PCS, the whole engagement process is a major project which runs throughout the year. It begins with helping Amazon develop their approach, before arranging of a series of events, preparation sessions and support throughout the recruitment process. "Our Senior Careers Consultants are both student and client-facing. Emily Fenlon, who manages the relationship, has expert knowledge of the process and the requirements. She is able to work closely with students to ensure they are fully prepared and have the best possible chance both through the application and the interview process. It's incredibly challenging but, as we have seen from the outcomes, also very rewarding."
Find out more about our Full-time MBA Programme >>