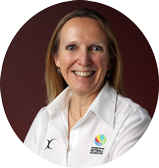 Clare Briegal studied the part-time MBA back in 1990 and is now Chief Executive Officer for the International Netball Federation (INF). The INF is a membership organisation and is the world governing body for the sport. The members of the federation are national netball associations which include England, Australia, South Africa and New Zealand, to name a few. Most members are from Commonwealth countries but the sport has started to grow in non-Commonwealth countries too. There is a membership body of around 75 countries but then there are a further 50 countries who play netball but not at the International level yet. The INF's role is to provide the overall governance of the sport and manage the rules, and it is is the rights holder for the Netball World Cup (INF's main income stream). The staff at the INF Secretariat in Manchester appoint the umpires for all international matches and provide the administration for the INF Board meetings.
We met with Clare recently to find out how she ended up with such an interesting job working for the INF and how the MBA helped her with this role almost 30 years on. Clare said, "I have always been interested in sport and I was never a serious netball player, I played racket sports and at university I was a competitive rower. I first considered working in the sports industry and combining my business knowledge with sport when I attended the Commonwealth Games in Manchester back in 2002. At these games I saw the volunteers and thought it would be fun to get more involved. I volunteered at some international rowing events over the next few years which encouraged me to consider taking a job within the industry." 10 years on, in 2012 a maternity cover role became available at the International Netball Federation which Clare was really excited about and enabled her to bring her business skills into the netball administration world.
When Clare started the MBA back in 1990 she was working for the chemical company ICI in the Acrylics division as a product manager. She said, "The MBA gave me confidence and a broader understanding of business which helped me make the shift in career from the chemical industry to sports. It has given me that overall business knowledge and skills that are transferable across all industries." Throughout her career, Clare has had various job titles, including product manager, sales manager, marketing director and managing director. Clare has found that the MBA gave her the depth of understanding she needed in all areas of business, from financials and production to HR and organisational design. She keeps these skills in her tool kit to use as and when she needs throughout her career.
Choosing Alliance Manchester Business School to study was an easy choice for Clare, as she was working in the North West for ICI. Being a product manager she also spent a lot of time travelling, so she wanted to be based near home for studying. After looking into AMBS she knew it had the right reputation for her and the MBA would complement her first degree from the University of Cambridge. Manchester gave her the skills she was looking for, she says, "Studying for an MBA was the natural thing for me to do in terms of my development. My first degree was in biochemistry and I really wanted to grasp a wider business knowledge."
Clare has worked in a few different industries, she states that studying the MBA sets you up with skills that you can then apply to all different sectors. Clare tells us how techniques may have moved on, but she says how she is still writing business strategies based on methods taught when she was at AMBS. The MBA teaches you how to critically analyse business situations which she is doing regularly in her current role. Overall, she tells us that the skill- set she learned on the MBA still carries her through.
We asked Clare what advice she would offer to those looking into an MBA and she said, "Make sure you have researched into the type of MBA you want to study, whether that be part-time or full-time methods of learning." Clare goes on to say that she found the time she spent on campus with her fellow students was invaluable. She said, "You are only going to do one MBA so make sure that you choose wisely."
To find out more about INF see their website www.netball.sport and to purchase tickets for this year's Netball World Cup which is in Liverpool from 12th – 21st July.