Our new class of MBAs recently arrived in Manchester to start the next chapter in their lives. The atmosphere was buzzing as candidates from all the world settled in, got to know each other and took part in three weeks of induction activities.
Our MBAs enjoyed lectures on accounting, consulting and cultural awareness, as well as careers sessions, networking events and three days of outdoor development activities in the beautiful Lake District. The induction drew to a close with an Alumni Career Insight day and a welcome party at Manchester's Museum of Science & Industry. The class is now hard at work on the first of three live client projects, the Not-for-Profit Consultancy Project.
We caught up with some students to hear their thoughts...

James Tharian
"For me, the best part about induction was the presentations we all did when we first arrived. It was a great way to learn more about the countries, cultures and backgrounds of everyone on the course and to have a good laugh too. The Japanese group's presentation was hilarious!
"I'm really looking forward to the exchange programmes next year. One of the main reasons I choose Manchester was the programme's flexibility, as well as the opportunities to study and work abroad. I'm also hoping to get an internship outside the UK too!
"A nice surprise was how friendly and welcoming everyone is. For some reason, I expected everyone to be ultra-ambitious and out for themselves. That couldn't be further from the truth. We collaborate on everything and even share internship opportunities with each other. I suppose it all comes down to the fact that we are like-minded people who want the same thing.
"I'm most worried about having enough time to do everything I want to achieve in my MBA. There is so much opportunity to develop yourself and your career and only a finite amount of time. I suppose that's one of the skills I'll learn at Manchester - to prioritise."
Carlos Arano Nacif
"After being in the area of oil and gas for more than five years, I am looking to change my career path towards the area of consulting or finance.
"My favourite part of the induction was being able to participate in the four-day trip to Brathay. It was a unique and unforgettable experience, where along with my team I was able to incorporate teamwork, strategies and efficiency. The activities and the place where it was held made for a perfect combination.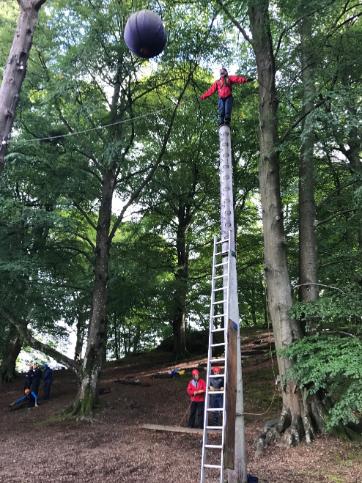 I don't like heights too much, but at Brathay I tried my best and we all made an effort to get out of our comfort zone.
"What has most surprised me is having a real project with a client in the first week. It's very exciting to be able to work with an NGO; alongside our supervisor and with the expertise of our professors, we are able to learn and help the client."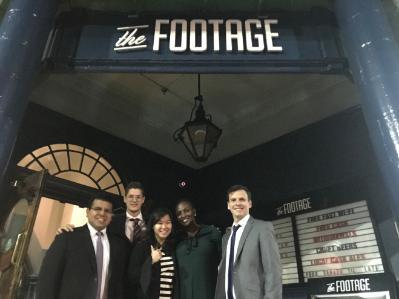 My Not-for-Profit Consultancy Project team after our first client meeting client: Christian (Philipines), Cesar (Peru), Akosua (Ghana), Jon (Spain), Me (Bolivia) - it is amazing how diverse the MBA is.
Jonathan Han
"I thoroughly enjoyed the experience at Brathay Hall in the Lake District. It was a great retreat to discover more about yourself and how you interact with others in a team - especially one that is multicultural, international and full of ambitious individuals.
"I am looking forward to the International Business Project. I am excited to apply learnings from the course into live reality with some of the world's most recognisable firms. It will be hard work but a rewarding experience!
"I've been surprised at how far-reaching and global the programme is. There are over 30 nationalities in our cohort of 111 and every day, I have learnt something new - whether that may be a new word in a new language or a particular cultural aspect! It is fascinating to hear how life varies and meet new people from across the globe.
"I'm apprehensive about being back at university and exams! It has been quite a number of years since my undergraduate degree, so it will take a while to readjust to the right frame of mind and return back into the swing of things. The induction period does help in easing everyone back into university life and utilising AMBS' 'Manchester Method' of learning-by-doing."
Pranet Patra
"Before I arrived, I was a little concerned about studying with people from so many different countries with different teaching styles. At this age, it is difficult to adapt to new things. But now we understand why and how things are designed this way, especially Brathay.
"Before we went to Brathay, we were worried about losing four full days as we were already so busy with the Not-for-Profit project. But I am glad it was scheduled at that point, it really helped bring the teams together. When you are working with people from different countries, with different mentalities, everybody wants to do their best and everybody has good intentions, but they don't always connect. So team spirit has to come first and that's what Brathay gave us. I am very happy now.
"At this point, I am looking forward to my projects. I have also signed up for some of the networking events that are coming up. I am looking to meet some alumni and broaden my horizons as I would like to stay in consultancy but move from IT to banking, finance or retail. I am planning to travel to London a lot for networking and recruitment events. I'm expecting this to be a challenge, as I will need to fit everything in around my studies, but I am looking forward to it. I will also apply for leadership positions in the student council and the retail club, and I'm planning to find people to practise guitar with in my spare time.
"The style of lectures at AMBS has surprised me – it's not just one person standing at the front with a book in hand, telling you what to do. It's more pull than push, they want active and interactive sessions. That has been surprising in a good way."
Click to find out more about The Manchester Full-time MBA >>