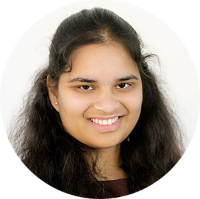 What are the challenges of studying an MBA with a technical background? Full-time MBA candidate Padma built a successful career in hardware engineering after leaving university. Now, she is studying an MBA to transition to a career in corporate social responsibility.
What was your background before the MBA and how did you get interested in CSR?
I come from Bangalore India, I did my bachelors in electronics and communication engineering and then I did my masters in embedded systems. I always wanted to work in communications, to code and make really cool technologies. I got a job at Cisco, one of the major networking giants and that's where I started off as a hardware engineer. My role there was to test all the boards that go into the switches and data centres etc. Around two years into my time at Cisco I got an opportunity to lead the CSR activities within our business unit. We had seen a couple of CSR activities go really badly, they weren't fruitful. We were investing so much but not making anything out of it, so we thought we could do something better. So I and a couple people who were very early in their careers found organisations that were doing good work and making a difference. That's when I started working with Step Up for India, which is an organisation that makes tailored English teaching programmes. Because India is not a majorly English-speaking nation, in all the government schools they get pretty bad basics.
Step Up had tailored programmes and their way of teaching kids was by using the vernacular and using sounds. It was fascinating. I started working with them almost all the time. I didn't quit Cisco but I used to go on a weekly basis, three sessions a week. Then I started to see opportunities to improve Step Up for India, how we could get other schools and other corporations involved in it. You would see CSR activities like cleaning a slum or painting something but when it comes to the leadership at those companies, that's not what they are interested in. But I found that if you talked about something like the English literacy work Step Up for India did, they would love to help. I got really passionate about working for a not for profit organisation and that's when I decided, "I'm going to go do an MBA and come back."
Particularly now that AMBS is third in the world for CSR, I was super impressed. I felt I was going to have opportunities and find a job working for an organisation outside India. I would see how things happen, learn and take things back home.
So with the engineering education you have, what are the challenges and benefits of joining an MBA programme?
I'll start with the challenges. One year ago, I was wondering if this was the right thing to do. I always thought of myself as an individual contributor, someone with really good technical skills. I thought managing people was something that required completely different skills and I probably didn't have them. But then I discovered it's not so much about there being two different kinds of skills, it's just using the same skills in a new way. The major challenge probably, is thinking about how I engage with education. Until now I had studied hard sciences and maths which are very hands-on. I assumed that business was mostly theory but that wasn't true.
One of the other advantages of having a technical background is really standing out, people are really interested in it! And when you talk about the benefits of having diverse backgrounds in a team, it's so true. When I bring something from my technical background it's often something others in my cohort aren't aware of.
My technical background also prepared me for the hardcore work and the stressful working environment. The consultancy projects are probably the peak of that, they are quite stressful. Also, working in hardware as a woman, it felt like people expected me to be some kind of alien creature- like how is she here? Even in my team, I was the only woman in a team of 169 engineers. So you kind of know to how deal with stress and pressure.
How did you decide on an MBA instead of a third-sector focused degree?
I chose the MBA to basically see if I could be in a position where I could make decisions. I understand that's important in many places, but especially in a not-for-profit because you don't have the resources, you cannot make a wrong decision. You have a huge responsibility on your shoulders, so I really wanted to know if I could thrive in a decision-making environment. The biggest thing is knowing how to make the most of very limited resources and make the most impact. That is exactly what we learn in manufacturing, how to make the most of as little as possible. There's a strong connection there.
Specifically, I chose AMBS because of the structure. When you look at the programme there is very little classroom learning, most of it is out there in the real world. In total, we have three consultancy projects with real clients. We have already done one project with a not-for-profit organisation. We are in the middle of the second consultancy project and we have already started bidding for the third. So there's real money at risk there. Even though we are all friends, we are also so competitive because we are bidding for projects we care about. There's competition and stress, and when you are working in groups – even when you get along – there are going to be moments where you lose it and just think "What the heck is happening?" There will be conflicts and you have to resolve them to get things done by the deadline. It's literally putting us in the work environment and what could be better than that?