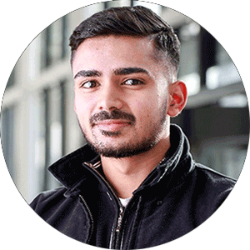 MSc Finance student ambassador and Alliance MBS Accounting and Finance scholarship winner, Hardik Joshi, reflects on his experience as a scholarship winner and student representative for his course, as well as his time in Manchester so far this year.
Why did you choose to study this Masters course at Alliance Manchester Business School?
"Like most students, my biggest reason to choose Manchester over other universities was its ranking, especially its employability ranking, as the most targeted university by UK employers.
"Soon after my first couple of weeks, I realised how different this university is compared to other universities as it literally pushes you to go and apply for jobs, it pushes you to become successful whilst providing all the help in terms of CV and cover letter checks, mock assessments and video interviews. I already feel I am so far ahead to where I was at last year during this stage due to all the information and guidance I have received from the Alliance MBS Postgraduate Careers Service."
Read about the dedicated Alliance MBS Postgraduate Careers Service >>
How does it feel to have been awarded an Accounting and Finance scholarship by Alliance MBS?
"I achieved a first-class Honours degree in Economics and Finance (BSc) and was offered an Accounting and Finance scholarship at Alliance Manchester Business School. Being awarded a scholarship to study here has certainly been a very proud achievement. It has added a lot of value to my CV and also provided me with a certain level of confidence to tackle the challenges faced during postgraduate study. In terms of interviews and employment, it has certainly been an achievement that has stood out and been appreciated by all."
What is the best thing about studying at Alliance MBS?
"I have made the most of the new Alliance MBS building where I spend the majority of my time during the week and it stands out compared to other buildings in terms of its facilities and infrastructure.
"Even though the schedule has been very hectic I have enjoyed my first few months so far due to friends that I have made and constant support from faculty who are there to help whenever I have needed them. I have spent most of my time at the Business School and Alan Gilbert Learning Commons which are really developed and advanced."
Explore our campus and facilities >>
How would you describe your student experience so far?
"Overall, my experience in Manchester has been amazing since it's a big city and due to the campus being quite big, there are people out and about all the time. There are events organised by Students' Union on a very frequent basis and the city itself is very lively on weekends.
"You have the freedom to do anything you want during your own time and at your convenience. Being the student rep of MSc Finance, I organised a class activity to go go-karting and it was one of the best experience students have had as they got to bond with the whole class outside of lectures.
"As well as this, I have been part of trips to Leeds, London and Coventry. I have also been part of the Sporticipate program at the University where I play indoor cricket every week. Overall, the starting of this semester has been more of a stress relief period.
"I have also participated in the Kellogg-Morgan Stanley sustainable challenge with a group of other MSc Finance students and hopefully we will clear the competition and gain the opportunity to visit New York."
What advice would you give to those considering studying at Alliance MBS?
"You should definitely grab the opportunity of studying at Alliance MBS where academics and networking are paramount and there are so many opportunities provided in order to secure a good career after finishing your degree."
A guide to Alliance MBS scholarships and funding >>