Alliance MBS held its first ever networking event for alumni in Geneva this week to coincide with its presence at the UN Forum on Business and Human Rights.
Professor Ken McPhail, Director of Research and Deputy Head of School, welcomed guests from across Switzerland at the drinks reception at the InterContinental Hotel in central Geneva, just a stone's throw from the UN headquarters where Alliance MBS had a major presence at this year's conference.
Said Prof McPhail: "We were delighted to welcome so many alumni who are now working across a range of industries in Switzerland, and also update them about the latest exciting developments here at Alliance MBS."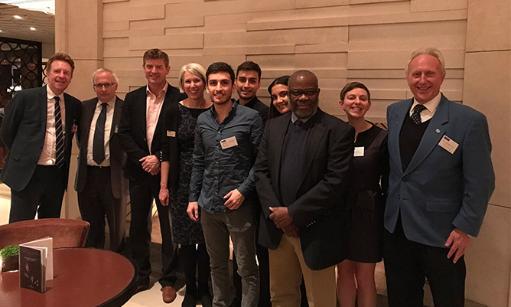 This year's conference attracted more than 2,800 delegates from across the world, including almost 1,000 companies, to discuss the crucial role that business can play in improving human rights in global supply chains and in combating modern slavery and discrimination. This year's conference also coincided with the 70th anniversary of the UN Declaration of Human Rights.
Alliance MBS has been at the forefront of the study of business and human rights issues and in 2016 set up the Business and Human Rights Catalyst, one of the first human rights programmes worldwide hosted by a business school.
This week the School also hosted a joint seminar in Geneva on incorporating human rights into business education along with The University of Geneva School of Economics and Management, and with the NYU Stern Centre for Business and Human Rights.
If you would like more information about the Catalyst contact lara.bianchi@manchester.ac.uk