The University of Manchester remains the most targeted university in the UK for top graduate employers, and as such, our students will benefit from a multitude opportunities to meet and connect with employers from all over the country, as well as the excellent support of our dedicated AMBS Careers Service, who work in unison with the central University's Careers Service. Professor Kevin Aretz goes into details about just some of the unique opportunities MSc Quantitative Finance students will have to network with major employers in the finance sector and gain hands-on trading experience: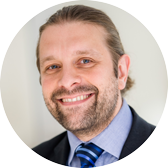 "Employers from the financial industry greatly feed into all the MSc programmes offered by the Division of Accounting & Finance. In the case of MSc Quantitative Finance, students, for example, not only have access to our standard networking events (which take place all over the academic year), but they also participate in a stock trading simulation set up by the London-based company Amplify, which specializes in practical trading for the financial sector, and they travel to Santander Bank's UK headquarters in London to present their MSc dissertations. Both the Amplify stock-trading simulation and the MSc dissertation presentations at Santander give students ample opportunities to chat, network, and exchange ideas with true professionals in the financial industry, possibly opening up the door for jobs and internships in that industry afterwards.
The Amplify stock trading simulation takes place in Manchester at the end of the second semester and lasts for one entire week. The simulation is usually conducted by Amplify's own Managing Director, Will De Lucy, who brings the necessary equipment up from London. Will kicks off the event with a couple of more practitioner-orientated lectures on financial markets and investing, offering a refreshing alternative perspective on topics which students will already know from their prior academic lectures. During the trading simulation itself, students invest into a wide range of financial assets using technology identical to the technology used by professional traders, tracking their investment performance over time and determining who has the best record at the end. While not everyone can come out on top, prior students greatly appreciated the event, saying it is highly useful and relevant but also enjoyable.
Find out more about Amplify Trading Bootcamp in the video below:
The MSc dissertation presentations at Santander's UK headquarters take place toward the start/middle of the dissertation period (which is the third semester). On the day, several colleagues teaching in the programme, our administrator, and I travel to London with the entire student cohort, usually taking an early train from Manchester Piccadilly. Having arrived at Santander Bank, Marcus Ludwig, the Head of Santander's Risk Division and our contact at the company, starts off with giving the students a presentation about the company's history, development, main working areas, etc. It is then the students' turn, with one student per MSc dissertation topic giving a jointly-prepared 15 minute presentation about the topic, initial empirical results, policy implications, etc.
The students' presentations are not only attended by Marcus, but by a wide range of other senior managers and traders, who offer their feedback, critiques, and suggestions at the end of each talk. During the event, multiple coffee and lunch breaks allow the students to chat with the audience, exchange ideas, ask for job opportunities, etc. While the students are usually greatly nervous when travelling to Santander, they later all agree that the event is extremely helpful for their professional development and gives them new perspectives on their work. Also, I have heard that some of our more active students stayed in contact with Santander personnel, giving them an edge in later finding a job in the financial (in particular, banking) industry."
Read about MSc Quantitative Finance Class of 2019's visit to Santander >>