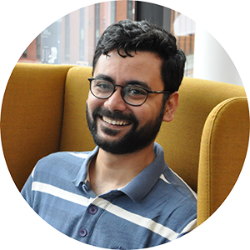 Student, Harsh Anand, shares his experiences of the MSc Quantitative Finance Class of 2019's recent trip to Santander's headquarters in London.
Tell me about your experience at Santander and the activities you were involved with during the day?
"We got the opportunity to visit Santander's office in London to get hands-on experience of how the Investment Banking and Risk Division works. The overall experience of the trip was very useful in terms of a knowledge sharing session and direct interaction with the employees on their day-to-day activities. This experience not only helped us in practical learning but also boosted our confidence enormously. We further presented on different topics and discussed the feedback in detail.
"The presentations helped us leverage all our technical knowledge which we have gained from the course. The task demanded teamwork to demonstrate quality experimentation and results. Our team shared the research on cryptocurrency markets and its future scope.
"If I had to summarize the trip in one line, I would say the trip acted as a bridge between the theoretical learning at university and the practical exposure in the industry."
What did you enjoy most about the experience?
"The opportunity to present our topic and open discussions on other topics with the industry experts and students was enjoyed by everyone. The multicultural audience provided us with completely different perspectives on all the topics. In a way, this experience also helped us in preparing for the assessment centres.
"And of course, we explored London before taking the train to Manchester."
Did the trip help you with further understanding of this business sector and your future career options?
"The trip helped us in getting a feel of real-life experience in investment banks and also helped develop some contacts in the industry. It also made us ready for the assessment centres where we need to present on topics and quickly answer the questions asked by the interviewers.
"Obviously, it helped us in getting an exposure to teams like model validations, market risk, credit risk and others. Having known about the work and different teams in the banking sector, it is now easy to apply to the respective areas in any bank."
How will you use the experience for your dissertation?
"I will try implementing all the feedback from the industry experts and my colleagues to increase the scope of my dissertation project."
Read more about the MSc Quantitative Finance degree course >>