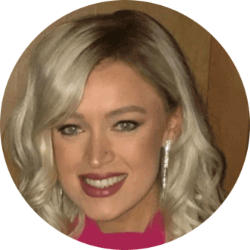 We spoke to Emily Brooks, MSc Marketing Class of 2020, about how she secured a prestigious graduate scheme position at KPMG, one of the 'Big Four' accounting firms.
Emily will be studying towards an ACA qualification while working as part of their 'Audit – Empowered' programme. Emily discusses how studying for MSc Marketing has helped her in securing this position, and reflects on her time at AMBS as a master's student:
How do you think your master's course has helped you secure your graduate position?

"In my final interview, I was asked about the ethical considerations of certain business operations, and as I had taken the unit 'Integrated Marketing Communications and Advertising' that covers such areas, I was able to confidently respond and apply my existing knowledge to a practical scenario.
"This is just one example. The content of the master's has been in-depth and relevant, and we are encouraged to keep up-to-date with recent publications in marketing journals etc. I would say that the relevance of the material and the thorough, exciting methods of content delivery have enabled me to achieve true confidence in my knowledge and abilities.
"It is this assuredness that I believe is the greatest takeaway from studying this master's, as it is crucial to have skills in decision-making and logical reasoning when pursuing a career in such a field. And any field, really!"

How has completing a master's prepared you for the working world?

"I have developed so many crucial skills that I wouldn't otherwise have had the opportunity to. It is definitely a great balance between autonomy and collective work, thereby replicating a professional working environment, in which both are usually required.
"Also, independent research is an expectation on a master's course, and often it is up to you to decide whether published material is both credible and relevant to your current projects. Developing this ability really enabled me to critically analyse and extract information from a wide range of sources, and come to logical conclusions based on this. I am certain that this will serve me in moving forward."

What advice would you give to applicants on how to prepare for applying for graduate positions?

"I only applied for roles that were interesting to me and that aligned with my personal interests and competences. I would advise others to do the same. It may feel like there is a pressure to secure a graduate role, regardless of the job expectations or field, but I would say that in order to feel truly successful moving forward, and fulfilled in your career, it is crucial that the role is something you actually want to do!
"I spent a lot of time researching the different options available to me. CareersLink, a platform provided by the University, was an amazing help during this process as I could tailor my job search.

"I would also recommend that you thoroughly research the companies you are applying to; there is nothing wrong with being over-prepared for an application or interview! If you are able to tell the interviewer something that they don't already know about the business, it will prove to them that you are truly invested in pursuing a career there. This will also allow you to ensure that you are a great fit for the company and that they are a great fit for you!"

What has been the highlight of studying MSc Marketing at Alliance MBS?

"There have truly been so many highlights of studying MSc Marketing at AMBS. Firstly, the standard of teaching and support available is amazing; there is always someone that you can direct questions or queries to, and the academics are specialists in their respective fields which brings such dynamism and passion to lectures and seminars.
"Secondly, the people I have met on this course have been so interesting and brilliant to work with. I have met some lifelong friends, and the diversity of my year group has brought broad perspectives and detailed discussion to group projects.
"I truly am grateful for my time at Alliance MBS, and I encourage anyone to pursue a master's here!"
Read more about MSc Marketing >>
Read more about MSc Marketing graduate destinations >>