The UK is in lockdown, but that didn't stop our MBAs from marking the end of their 18-month MBA journey.
It may not have had the glamour of a black tie ball, but the Class of 2020 came together for a virtual celebration after wrapping up the international consultancy project with remote client presentations.
They leave armed with happy memories – from consultancy projects, internships and study tours to exchanges, business competitions and socials. That's not to mention the people they've met and the places they've visited.
Here are some of the fantastic memories our MBAs have shared about their time at Alliance MBS. To view more, head to our LinkedIn page and search #AMBSlife
August 2018 is when my full-time MBA at AMBS began. The start date is clear, but it's hard to put an end date to it. I have been thinking about why it is so, and perhaps it's because I don't really want it to end. Perhaps it's because the MBA inculcates a way of thinking, a way of doing, a culture, a family and learnings for life. From the academic to the extra-curricular, the consultancy projects to the internship, the induction to the closure, this MBA has been unconventional in every respect. Today, it's like revisiting a long, beautiful but challenging hike, and stopping at the scenic bends to take in the glorious view. Over the last 18 months, we've made a lot of things our own. Popular hang-out spots, key events, buzzwords that become a part of your vocabulary and so on. Here's a little crossword I made two months ago highlighting just a few of these. Disclaimer: some answers relate to pre-Covid-19 days.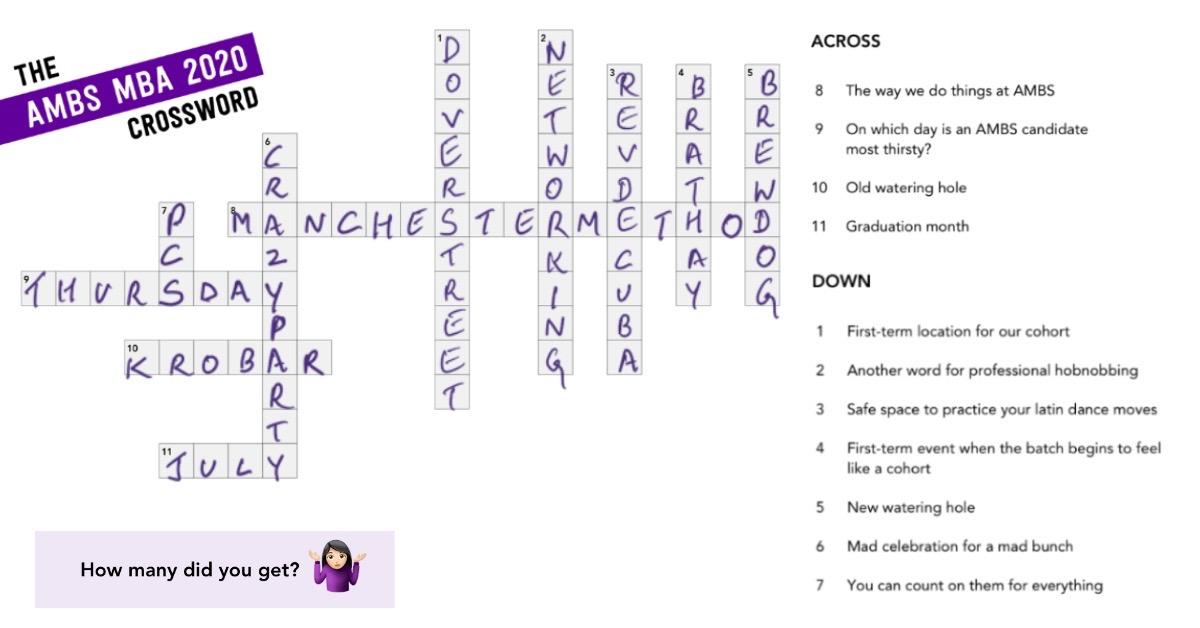 I couldn't possibly put down in words everything that I have had the opportunity to do over the last 18 months! Instead, I have tried to pictorially depict some of the amazing memories and highlights I'm taking back with me. Thank you for everything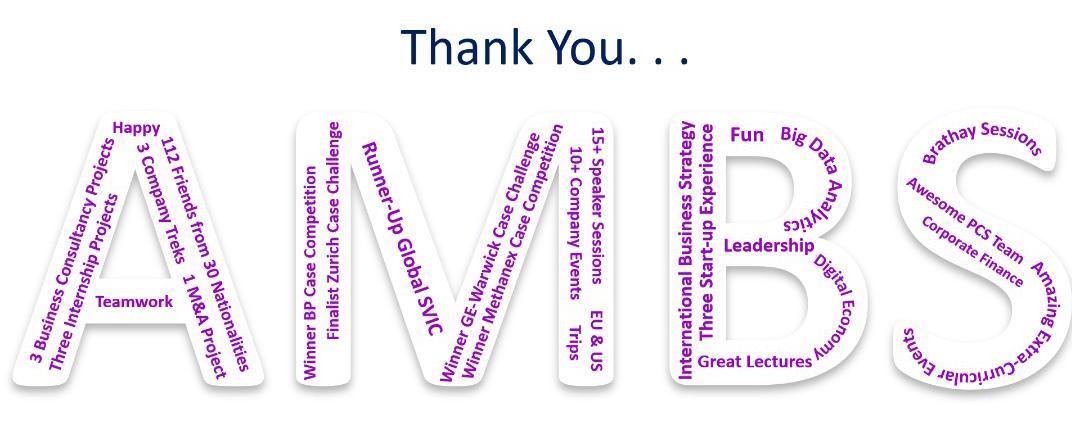 This month marks the end of my MBA journey at the Alliance Manchester Business School. It's been an amazing 18 months with too many great experiences to list. Some highlights include winning the AMBS Case Competition with three incredibly talented ladies (Maria Dolores Moreira, Adriana Ingar, Margarita Montalba), coming second in the European finals of the Venture Capital Investment Competition, playing football at MBAT in Paris, learning to think big during my internship with Amazon in London, travelling to China to study at CEIBS in Shanghai and a final consulting project exploring urban mobility in Brazil with five amazing team mates (Maria Dolores Moreira, Jeffrey Taylor, Jianing Wen, Mario Alvarez and Varun Reddy). Special thanks to Chris Garnett and his team for all of their support throughout the MBA as well as every one of my class mates. It's a funny time to be graduating, but even the strangest of times can bring opportunities. Here's to 3 months of learning more about the circular economy with the Ellen MacArthur Foundation, brushing up on my Spanish, learning to code in Python and picking up my flute again!
Last week marked the end of my 18-month MBA journey at Alliance Manchester Business School. Our final project was delivered remotely and two days before our final report was delivered I received the news that my job offers had been put on hold and I had tested positive for COVID-19. The last few weeks have been incredibly challenging, but I am now in recovery and optimistic for what lies ahead. I have had the opportunity to bid for, conduct primary research for and consult a UK non-profit, a London-based FinTech company and a global payment provider in the US and Europe with teams from my cohort made up of 113 professionals from 30 countries. My internship allowed me the opportunity to help a London-based equity research firm market, price and launch new strategy and analysis reports in over 50 countries and help make a significant impact to the firm's business model and revenue. I am especially thankful for the opportunity I had to live and study in Shanghai at China Europe International Business School (CEIBS) as well. Many thanks to my incredible cohort and friends from both schools. This has been an incredible experience and I look forward to applying what I have learned in my career going forward.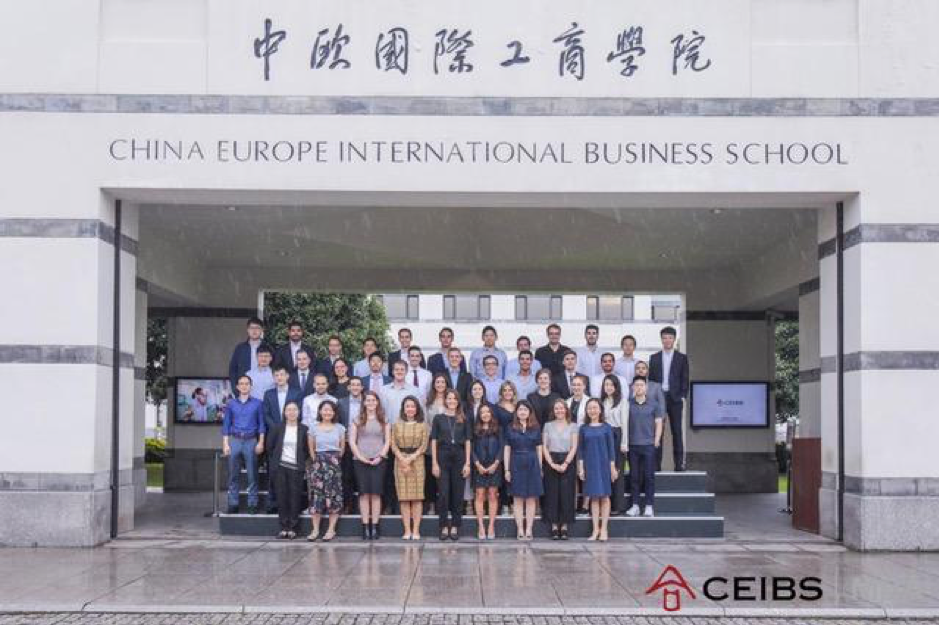 Last week I completed my MBA!!!! Over the last 18 months, I have enhanced my existing skills and developed new ones. I have matured as a person and had experiences which will stay with me forever. I have met 113 other brilliant human beings, done three live consultancy projects, a summer placement, travelled the world for international electives and my final project. Thank You Alliance Manchester Business School and class of 2020 for making this possible!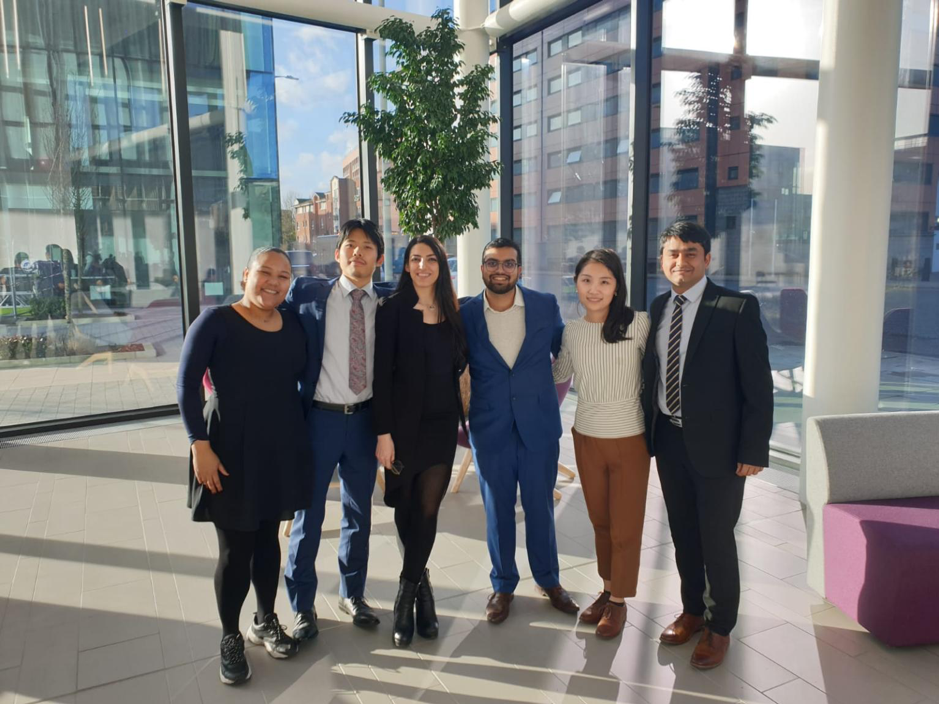 Last week, after intensive 18 months, I completed my MBA journey at Alliance Manchester Business School with a class of 113 talented people from 30 countries and it is the most amazing experience that I have ever had. It has always been exciting to learn something new from my clients across different industry sectors. Hence, I would love to highlight the three live client consultancy projects that have given me great opportunities to tackle entirely different business issues, develop my knowledge and learn from others. In particular, my last international business project for Graphene Engineering Innovation Centre allowed me to discover new insights regarding to the value of advanced materials such as graphene in energy storage devices. I greatly appreciate all kind support and guidance from the faculty and staff from my home school and my exchange school Rotterdam School of Management, Erasmus University. Many thanks to my lovely classmates and friends from both schools as well. The moments that we spent together are unforgettable. Saying goodbye to the past also means a new hello to the next chapter. I believe that opportunities exist in challenges and the most difficult paths usually lead us to the best places. : )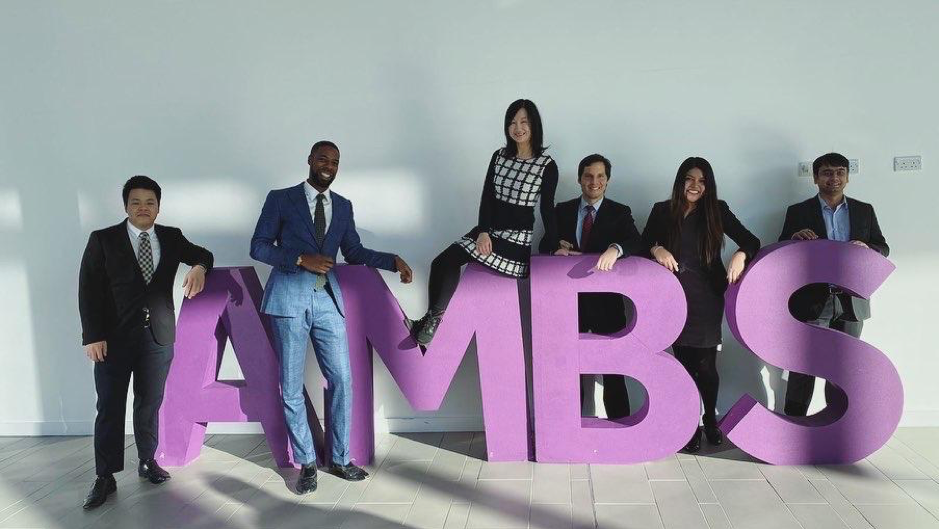 After 18 months I have just completed my MBA at AMBS with 115 new friends having; spent 3 months living and studying at CEIBS in China, worked and travelled across the United States, delivered 3 live consultancy projects and completed an internship at Google. Good luck class of 2020.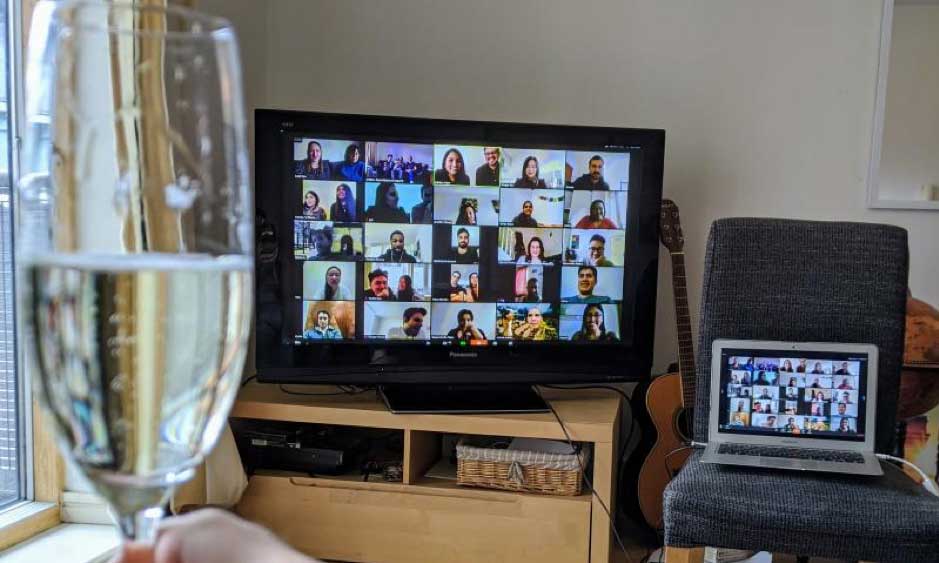 Another life goal achieved: I am an MBA from Alliance Manchester Business School. Despite the context we are facing nowadays, I can't be more grateful for the amazing experience during this incredibly busy 18-month journey with new friends from all around the world and all the activities fulfilled like the real consulting projects, competitions, trips, electives abroad, more trips and more challenges! After leaving my home country Peru, my family and my friends, one of the biggest learnings here in the UK was to embrace and adapt to changes with a positive attitude and to seize the opportunities life has to offer me. So, let's continue doing our best to overcome this difficult time and I hope to see my classmates after this lockdown period (at our postponed graduation ceremony maybe?). Congrats all and stay safe, my friends.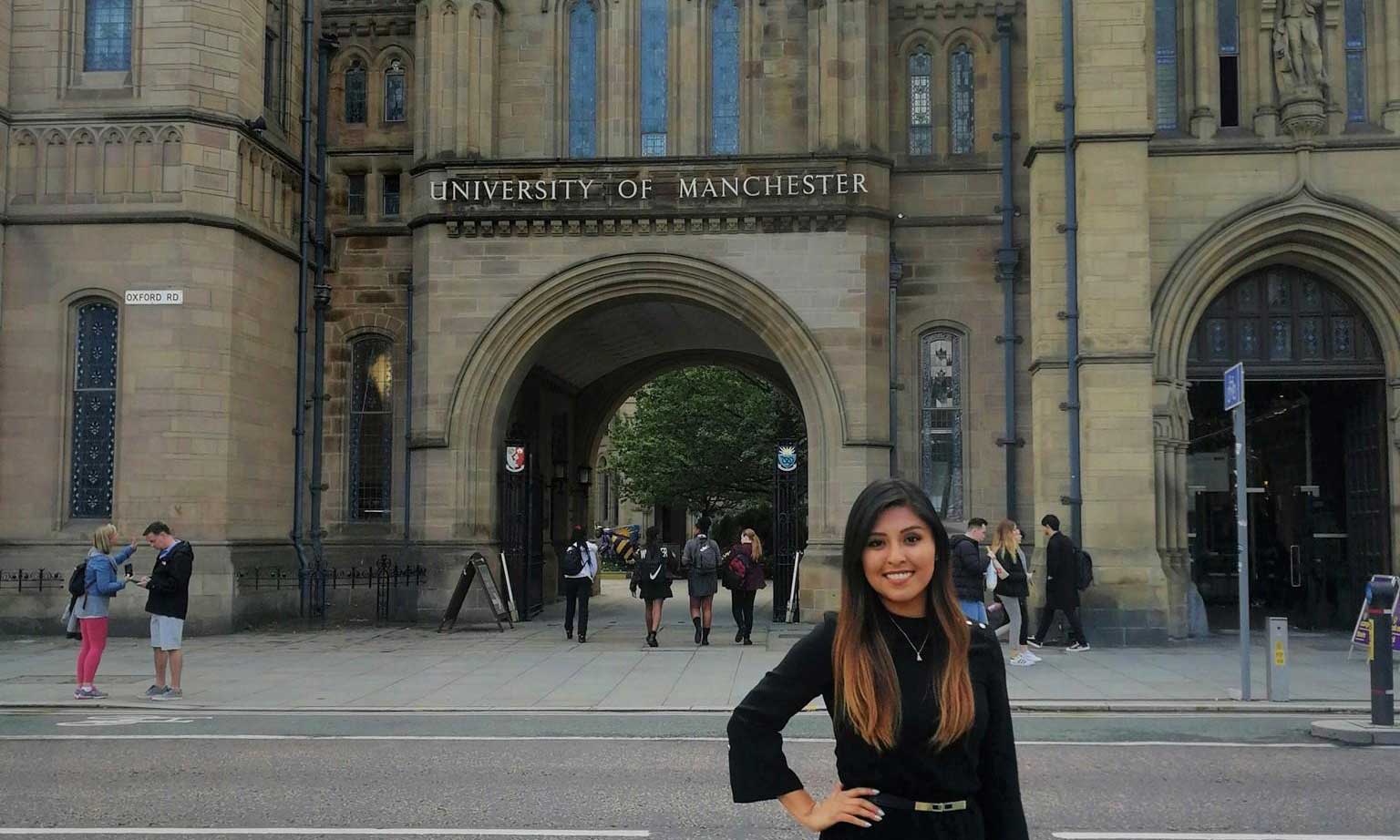 Last week I completed my 18-month MBA Program! It has been without a doubt a challenging but very enriching experience since day one! … Live consultancy projects, summer internship, international study tours and elective courses at AMBS' China and Middle East Centres, speakers' sessions, companies' treks, sports tournaments MBAT, networking events, and the most amazing people I could have ever met! Thanks Alliance Manchester Business School for making this possible! Congrats to my wonderful cohort, Class of 2020! It has been a pleasure and a blessing to meet you all! Best of luck in your future personal and professional journeys! I am sure we will meet soon to celebrate and continue creating memories together!