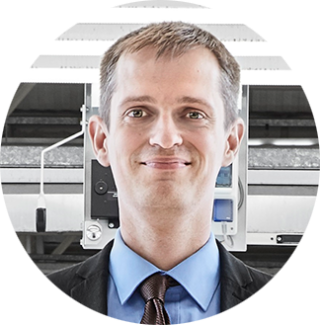 Owen Lloyd, Senior Global Product Manager, Bentley Motors
"When I started the MBA, I was working for Bentley as a Senior Global Product Manager for a line that represented 85% of the company's sales. After a brief stint in a different area, I realised my heart lay with product management and I'm now Senior Global Product Manager for a completely new line. I am responsible for taking it from a blank sheet to development and beyond. I've been working on this current project for three months and I'm excited to see what lies ahead."
Did the MBA help you change roles?
"Since studying the MBA, my communication style has improved, I see the bigger picture more easily and I understand 'high-level thinking' in senior meetings better. I'm also more confident in areas such as accounting and finance. Despite having studied business at GCSE, A-level and undergraduate level, I've always struggled with this. Thanks to the way of teaching at AMBS, it finally makes sense. I'm pleased to say I passed this course and even got an A* in the project!
"I also think the MBA taught me to approach challenges differently. For example, I took the Innovation Management & Entrepreneurship elective course, which was really inspiring. In the commercial world, we are often taught to be cautious and reflect before making decisions. This course encourages you to give it a go and take risks, which is refreshing. It was very well delivered for those of us with no experience in this area."
Why would you recommend the Manchester Global MBA?
"I have nothing but positive things to say about the Global MBA. All the courses had some benefit and were pitched at just the right level, we had some great guest speakers and the absolute highlight was the workshops. We covered a lot of ground over the two years and achieved so much. I don't know anyone who didn't enjoy it and the calibre of classmates was excellent. I considered schools across the country, even though I live close to Manchester, but I'm glad I chose AMBS. The course couldn't be structured any better, it is well organised and the level of progression is just right. The team is also always open to feedback.
"Since finishing the MBA, I've taken on additional responsibilities that sit outside my official remit since I miss studying and want to keep my grey matter stimulated! I work as a Professional Family Lead, making sure colleagues get their needs met, and I sit on the CSR Committee and Company Car Committee. This has helped fill the void left by the MBA!
"The MBA is also great if you plan to work abroad. It makes you realise that business is the same all over the world, albeit with different legal infrastructures, etc. Every multinational company knows what an MBA is so it really opens up doors. The traffic to my LinkedIn profile has definitely increased since I listed the MBA on my page. Unfortunately I didn't travel to any overseas centres as I was travelling so much already for work. With hindsight, I would have liked to study the Contemporary Chinese Business elective in Shanghai."
What advice would you offer someone about to start their MBA journey?
"A lot of people were concerned about the work life balance, but in reality the workload flexes to be more or less depending on the time of year. If you are interested in the business world and commerce and have some experience under your belt – just do it.
"The Global MBA will really give you the high-level, strategic mindset that's needed for leadership positions. However, I'd say it's important to have a genuine interest in business and commerce and not just do it for career progression. You will still need to drive your own career forwards; having an MBA on your CV won't change you as a person!"
Find out more about the Manchester Global Part-time MBA here >>