MBA student blazes CSR trail
Almost 10 years since completing her MBA at Alliance MBS Mina Suzuki is blazing a trail in the area of corporate social responsibility in her native Japan.
Today Mina works for Sumitomo Riko, a Japanese engineering giant which produces rubber and other synthetic resin products for a number of sectors including the automotive, electronics, health and housing industries.
As well as instilling CSR (Corporate Social Responsibility) activities throughout the company, Mina also plays a key role integrating financial reporting across the business, while she also represents the firm on CSR and sustainability issues at overseas conferences.
In particular Mina is one of the leads of the United Nations Global Compact (Network Japan) Working Group and for the last two years has attended the United Nations Business and Human Rights conference in Geneva. At last year's conference in November she also attended a panel debate hosted by Alliance MBS on the subject of sexual harassment in global supply chains.
Said Mina: "The conference was a great opportunity to learn further about this whole agenda and to learn about global trends in HR. When I saw that Alliance MBS was hosting its own session I was keen to attend, and I thought the debate brought to light a very important and often overlooked issue. I think issues such as forced labour and child labour are well documented, but the harassment of women often remains very hidden in the workplace."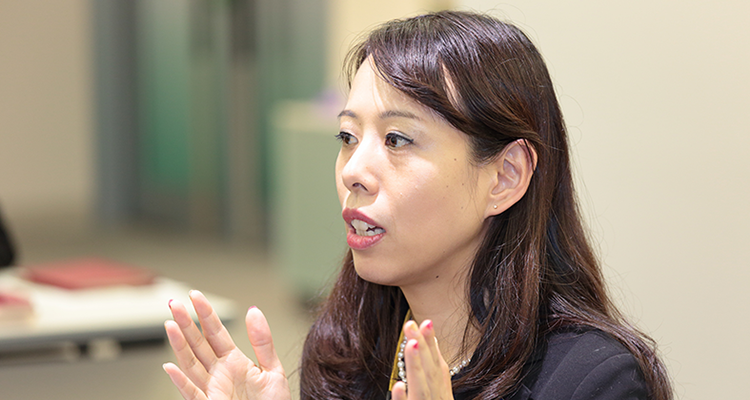 Early career
Mina's life today is a far cry from her early working career. Brought up in the city of Yokohama, south of Tokyo, she originally studied music at college and then worked for a publishing company in Japan editing arts magazines.
As she explains: "After a few years I decided I wanted to broaden my view of the world so decided to study management as an MBA. As I had no prior knowledge of management at all so this was a huge jump for me to make but I was determined to take on the challenge.
"It had always been my dream to live outside Japan so I decided to study abroad and visited several business schools including Manchester. I was instantly struck by how welcoming Alliance MBS was and haven't looked back since. The MBA gave me exactly what I needed in terms of the business skills I needed to further my business career."
After graduating in 2009 Mina had initially hoped to stay in the UK, but due to the global financial crisis and tough jobs market across Europe she decided to return to Japan. She joined accountancy KPMG as a consultant in internal audit and risk management, and stayed with the firm for four years before moving to Sumitomo Riko. As she explains: "The subject of CSR and sustainability issues had always interested me and while I was at KPMG I advised companies in this area, so it was a very logical move to work for a company such as Sumitomo Riko."
Future plans
Mina says she would like to continue working in this whole field, and in particular wishes to further her knowledge of the wider business and human rights agenda, a growing focus for multinationals. As she adds: "Companies everywhere need to connect sustainability and management issues far more."
And she would love to return to the UK one day too. "It would be great to come back, I had a fantastic time living and studying here."