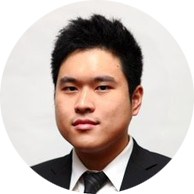 Leonard Zheng, Kelley-Manchester Global MBA 2018
Current Role: Real Estate Development Director, China, IWG plc
Pre MBA Role: Regional Development Manager, China, IWG plc
What is your current role and did you change roles during or after studying the MBA?
I work for a multinational company called IWG, formerly known as Regus. I've been with the company for six years and during my MBA, I was promoted from Regional Development Manager to Development Director covering the whole of China.
Why did you choose the Kelley-Manchester Global MBA?
Initially, I was interested in studying the Manchester Global Part-time MBA, as a lot of my friends had studied the programme. I attended an information session at the Shanghai Centre and heard about the joint programme with Kelley School of Business in the USA. I compared the two and decided to go for the joint MBA. I already had an MSc from The University of Glasgow, so I was no stranger to the UK education system and the joint MBA offered the additional benefit of giving me a US perspective.
What impact is your MBA having on your current role?
Overall, the MBA has made me a more rounded professional. Studying courses relating to different functions of an organisation, such as accounting and finance, has allowed me to appreciate other perspectives. I now understand their challenges and how they think, which makes me more effective in my role.
It was interesting to experience the US style of teaching. In the UK, there is greater emphasis on using essays and assignments as a means of assessment and the thinking is higher level and more academic. The Kelley courses required less reading and essay writing and there was a wider variety of assessment methods, such as building financial models and presentations. There was a good balance overall.
Did you study at any overseas centres?
I was lucky to travel to four different study locations during my MBA. I am based in China so I applied through the Shanghai Centre but chose to study all my courses overseas. I attended induction in Indiana and attended workshops in Singapore, Washington and Manchester. The Public Policy elective in Washington campus was excellent; lots of industry experts came to share their practical experience and I would strongly recommend it. Overall, I think I enjoyed going to Manchester the most as it is the 'home' campus for the Manchester MBA.
Which courses did you enjoy the most?
I really enjoyed Venture Capital and Private Equity and I use a lot of the knowledge and tools from Financial Management in my current role. Entrepreneurship and Innovation was also really good as I plan to start my own business in the future. I'd thought about this already and the MBA really strengthened my intentions.
What advice would you offer someone about to start their MBA journey?
The MBA is a big commitment in terms of cost, time and the impact on your social and work life. If you are debating whether to go for a joint MBA, go for the latter. Even though it's more expensive, you will benefit from greater diversity and balance and a wider network. You get the best of both worlds and exposure to two top universities.
What are your favourite memories of the Kelley-Manchester Global MBA?
My favourite memories have to be studying overseas and the late nights 'burning the midnight oil' to meet deadlines with my classmates.