This year over 80% of our Full-time MBA students completed internships. Not only was this a great opportunity to gain experience and skills, several students also had the chance to give back to the community.
Community day at American Express
Alice, Temo and all the American Express summer interns worked as volunteers in Holland Park
"When we arrived at Holland Park we were assigned to work with the local team of gardeners, who showed us the areas to be taken care of. Our activities were cleaning up, uprooting and scything. We cut weeds, scythed and cleaned up the garbage. It was a full day event.
"Holland Park is in London with an area of around 54 acres. The park has some very rare trees and flowers, a pond and some nice spaces, where we saw a wedding ceremony. The areas we worked on will be used by schools taking their children on days out.
"American Express regularly gives away its interns and employees' time so they can volunteer, as the company has a strong focus on social responsibility."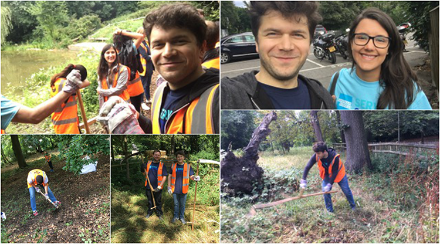 Credit Suisse: Protecting our species
Sahib Patel undertook a summer internship in London with Credit Suisse and volunteered at the Botanical Garden in Zurich
"My team went to Zurich to volunteer at the Botanical Garden. The Botanical Garden has approximately 9,000 different plant species – quite the diversity of fruits, flowers and leaves – across 53,000m2.
"Under the expert guidance of botanical garden employees, we performed various tasks such as collecting hay, cutting bamboo tubes, and picking blackberries, hazel perennials and maples to help the garden maintain its full beauty and reach its true potential."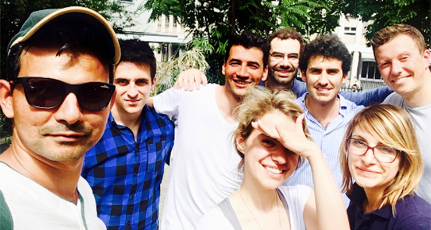 The Manchester MBA includes several opportunities to gain experience of social responsibility starting with the Not-for-Profit consultancy project, which provides professional business consultancy to third sector clients. We also offer electives in socially-responsible business.
Find out more about the Manchester Full-time MBA here >>
Click here to read more about social responsibility at Alliance MBS >>