It's competition season for our MBA Class of 2019. Competitions are a great opportunity to develop knowledge of new sectors, work on real business challenges and apply learnings from the client consultancy projects that sit at the heart of our programme. In this article, our MBAs share their experiences of competing on a global scale.
Winner & finalists - Johnson & Johnson MBA Case Competition, London
Top business schools from across Europe compete to win a place in the J&J MBA Case Competition finals every year. In 2018, AMBS secured three of the six finalist places and one team brought home first prize. During the competition, participants were asked to solve two cases currently being tackled by J&J.
Hear from two members of the winning team in this video >>
Entrepreneur's Choice Award - Invest for Impact Competition, North Carolina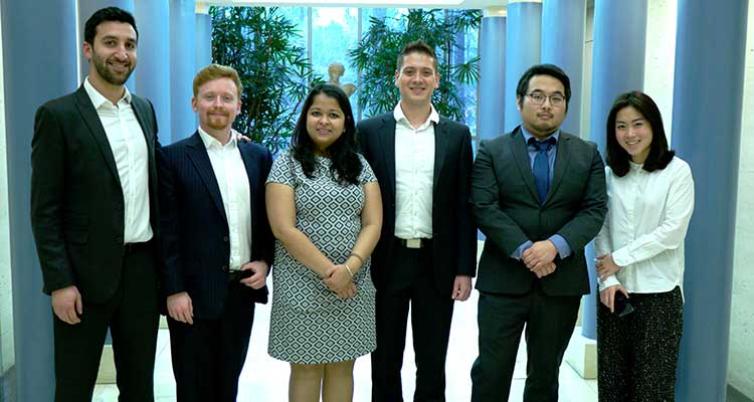 Invest for Impact, formerly SVCIC (Sustainable Venture Capital Investment Competition) is an MBA case competition that brings socially-responsible startups and investing professionals together with MBA students. The competition gives students exposure to the field of impact investing, which has experienced rapid growth over the past decade and requires further investment to address the world's most pressing challenges.
AMBS was one of two UK schools to reach the 11th Annual National Finals and competed against top US business schools to bring home the Entrepreneur's Choice Award. Team member Jorge Cardenas said: "On behalf of my team, I would like to thank the School for the opportunity to travel to the US to represent our faculty. We are very grateful to have lived this experience, enriched our knowledge and shared it with other business schools."
Finalist - International SDA Bocconi Finance competition, Milan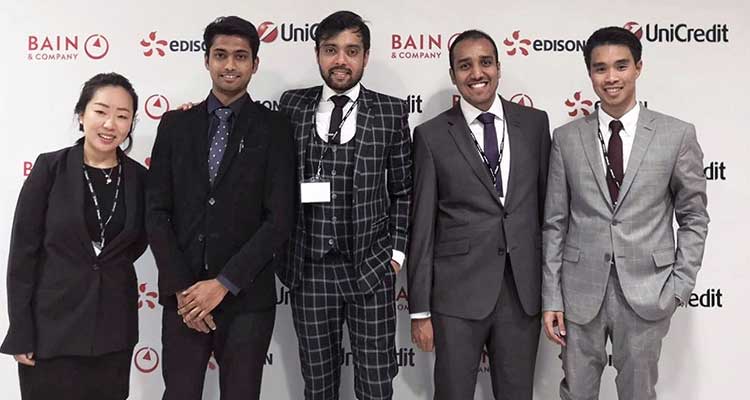 The International SDA Bocconi Finance competition is sponsored by Bain & Company and Edison SpA and every year, the cases are based on the Italian energy sector. Team member Nipin Gopi explains more:
"This year, we were tasked to spin off a medium-sized Italian energy company and come up with a four-year business plan. The case was given in two parts. Part A was distributed a week before the competition. On the day of the competition, we were given roughly two hours to crack and present Part B. Based on the cumulative scores, four teams were selected to present to the entire audience, with a Q&A in the final round. We lost the finals to Said Business School, Oxford, but it was a close one; we are proud that we were in the final running for the big prize. Our strategy was quite unique and our financial models backed our strategy quite well.

"Unlike other business schools, where the team is usually selected either by CVs or by the interest shown by students, at AMBS we had a keenly-contested democratic process where seven teams of five competed against each other for a spot in Milan. Going through the entire process was rewarding because we are now subject matter experts on the energy sector in Italy and EU as a whole. My team members were Yijie Wang, Akshay Kulkarni, Abdullah Al-Jwairah and Rubratchata Rujinarong. I think our advantage was that our team members hailed from diverse backgrounds and we were not all from the finance sector. We had a good mix of strategy and finance which helped our business plan stand out."
Finalist - Venture Further business start-up competition, Manchester
Venture Further is Manchester Enterprise Centre's annual business start-up competition for students and recent alumni from across the University. There are prizes of £10,000 and £2,500 in each category. MBA students James Tharian, Lewis Ryan and Lucas Alban reached the finals of the Business category with Hauss, which provides a fast, convenient and secure marketplace to connect the highest quality tradespeople with those in need of home improvement and repair. Joining them in the Business category final was classmate Erick Vera Bazan with with his idea Qali-Wawa, the Andean Baby Superfood. Meaning 'healthy child', Qali-Wawa is a mix of fruits, vegetables and the superfood quinoa, providing a high amount of the fibre, protein, vitamins and minerals that babies need for healthy growth.