I meet Andrew Bennie and Richard Tyrrell in an elegant café off Manchester's Deansgate. Together they founded Manchester Young Professionals, a community which gathers for an ever-growing array of networking events including after-work drinks socials, fitness classes, talks and volunteering. Richard is a Manager in Sales and Marketing at Kellogg's and Andrew is an Investment Director at Brooks Macdonald.
Andrew and Richard moved to Manchester from Lancashire after university and noticed a lack of opportunities to connect with their peers outside of their organisations. Andrew explains "There wasn't really anything out there like this that was inclusive, that was free to come along to or be a part of." Since then, MYP has continued to grow and thrive. Richard tells me "When we had the first event, it was just a group of our friends - people we worked with or people who were new to Manchester and who we knew from university. Initially, there were about 25 of us and then the community just developed through word of mouth. Now, we have ten thousand community members in different industries."
Expanding MYP's offerings
While the group started out as a more classic professional network, as Andrew says "It's evolved over the years but it's really connecting Manchester professionally and personally through social experiences. So typically it was social, drinks events after work but that's grown to now include health and wellbeing events. We've got three arms: we've got social which incorporates drinks events and also breakfast events. We do a breakfast club every other month at Albert's Schloss and that's really been successful and appeals to a different demographic. We have health and wellbeing which includes yoga, Pilates and other classes as well as health and wellbeing talks. Then we have the educational arm which is where we are working with the business school. That's something that has grown and we expect that to continue over the coming twelve months. We've got quite exciting plans. Trying to grow that professional arm is quite important. We want to try and develop people, going beyond just drinks socials and having a good time, so if we can contribute to Manchester in a professional sense that would be fantastic."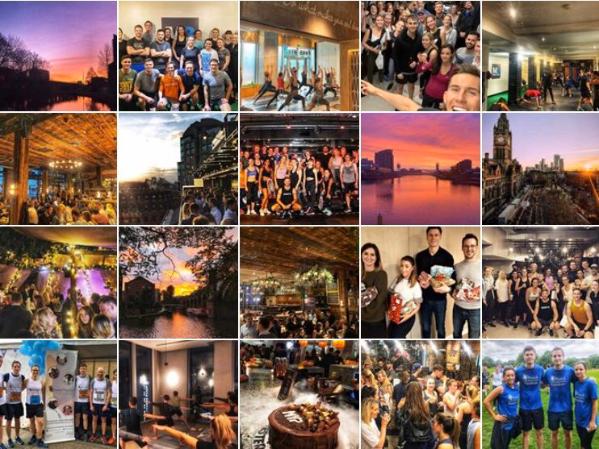 Connecting with Alliance Manchester Business School
In 2020, MYP will be working with Alliance Manchester Business School on a series of events to provide business skills to their community members. AMBS will also offer a £21,500 scholarship for the Manchester Full-time MBA to one person in the MYP community. Andrew explained, "We've realised there is a real avenue for growth if we can actually start to develop people professionally as well. We recently hosted a Negotiation Skills workshop and it was amazing how many people wanted to come along - 80 people bought tickets and it was sold out. We had to tell people they couldn't come because we couldn't physically fit any more people in there. It was taught by Malcolm Smith and I think we might look into doing one on salary negotiation next, which is obviously quite topical for people as they move up the career ladder. They want to have more information on that. I think there are lots of different areas we can go down with the educational piece. The thing about working with the business school is the reputation that it has. There are also many people in our network that I think are great candidates for the MBA programme, obviously, that's the idea behind the scholarship. The great thing about our community is that a lot of them tend to be forward-thinking and quite entrepreneurial, even if they are working in big organisations."
They came to the decision to expand their offerings in professional development from talking to long-term MYP community members about what they needed as their careers developed. The answers were clear, the standard networking over drinks events just didn't serve the needs of more experienced community members who were more established in their careers and in the city.
"We don't want to segment our audience but there are already clear, distinct areas that we focus on and we probably will extend them further. One example is leadership – experienced members do have different needs compared to when they were trainees or associates. They are suddenly managing people and they've got different demands on their time. How do we help people with that? And that's really one of our long-term goals: How can we be a hub for everything that's going on in Manchester, whether you're new to Manchester and trying out the latest restaurants and bars, whether you are new to working in Manchester and looking to develop yourself professionally, or whether you are experienced in Manchester and want to take the next step in your career into management – if so the MBA programme might be suitable for you."
Manchester to the core
One thing that is clear is that Rich and Andrew love this city, they see so much potential here and that's a big part of what makes MYP such an incredible group. Rich tells me "We have people moving here for jobs or coming to the city because their friends are here and they also want to get involved. They want to move from London or other global cities. I think the biggest reason to want to be in Manchester is that the community spirit here is unbelievable. So whenever you need a favour or help from somebody, people are really willing to do that. It often gets likened to London as the second city in the UK and it really is unbelievable how friendly people are. When people come to our events they get to know other people from the community. That's one of the other things we're quite proud of, we've been the part of friendships being created – and the relationships – and those people are engaged- Andrew interrupts, laughing "It's not a dating network to be clear but it's about meeting like-minded people in cool places and you create friends from that."
To find out more about the MYP scholarship, see our scholarships page.