Members of the Full-time MBA Class of 2019 recently returned from the China Study Tour, one of the global options on offer to our students.
The China Study Tour takes place at our Shanghai Centre and gives students the opportunity to travel with their classmates and immerse themselves in another culture, to build international experience, company connections and global business knowledge. Jiyao Xun, Associate MBA Director Asia comments on the five-day tour, "I am delighted that our students found this guided tour so helpful for developing their understanding of this emerging market."
We caught up with a few of the students who travelled to Shanghai to find out more…
"The study tour to Shanghai was a wonderful experience bringing together Chinese business and culture, for those who attended it will definitely be a highlight of the MBA programme. The tour spanned 5 days; it began with an introduction to business in China and the importance of 'Guanxi' or personal relationships, followed by guest lectures and company visits. Each company gave us different perspectives on the Chinese market and its consumers. Companies we visited included Blue Focus, an international digital marketing firm, Baozun, a local e-commerce giant backed by Alibaba and finally Lego, whose motto is 'Only the best is good'. Overall these visits helped us learn a lot about Chinese business and the challenges faced by international companies when it comes to changing their core values and adopting them for a local market.
The study tour was not all about working; during our time in Shanghai we had the opportunity to visit some of the city's famous sites. We took a cruise along the famous Shanghai Bund, visited the Yu garden and tried our hands at Chinese calligraphy.
This tour was a truly life changing experience as it introduced me to a new country, culture, language and business environment. It left me with anecdotes that I can now cherish in the future."
- Shefin Sam, Class of 2019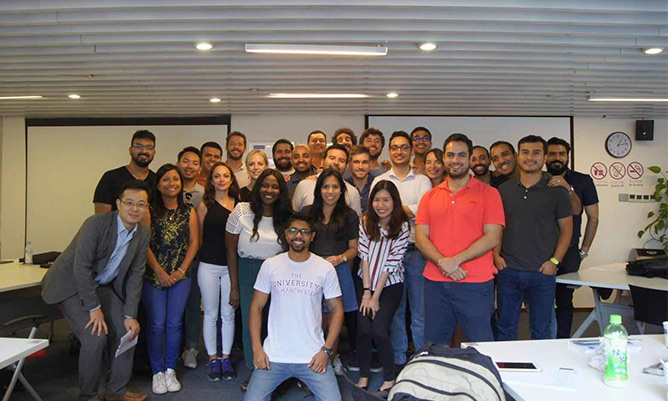 "Alliance Manchester Business School offers candidates a unique opportunity to learn about contemporary Chinese Business at its international study centre in Shanghai, China. The study tour comprises of lectures, company visits and case studies.
The study tour began with a short introduction to Chinese culture followed by a city tour and a cruise along the Bund area (this is a framed waterfront promenade with colonial-era architecture), with the day finishing with a group dinner. The following day lectures began and we found ourselves trying to absorb information on Chinese business and big data applications. We also had the company visits which gave us an insight into successful companies in China, how they go about their business, the challenges they face and how they learnt to overcome challenges. Visiting these companies not only gave us more detailed business knowledge; it was also a fantastic networking opportunity.
The biggest take away from my time in Shanghai was learning that to be able to do business in different countries it is imperative to invest both money and time in understanding the needs of different societies. I learnt that every culture has different needs and perceptions, things that are perfectly acceptable in one culture may be absolutely intolerable in another.
Setting work aside, we also had a fabulous time exploring the city. Shanghai has something to offer to everyone. It's like a Disney World where you can enjoy fun times with family and friends, great restaurants that serve international cuisine as well as Chinese, and fancy pubs along the Bund with the Shanghai skyline view. It is a truly mega city.
Overall, it was a great experience where by day we were studying new business techniques and by night we were exploring China's largest city. It was an amazing and insightful trip.
- Pranet Patra, Class of 2019
The China study tour is one of several global opportunities on the Manchester Full-Time MBA. Students can choose from a range of options including an international exchange, global electives at any of our overseas centres and study tours to Dubai and Shanghai. The programme culminates in the International Business project, which includes on the ground consultancy across the globe.