On 22nd July, the 2018 Kelley-Manchester Global MBA cohort embarked on their two-year MBA journey. The induction welcomed over 40 senior professionals from 19 countries and regions at Kelley's campus in Bloomington, Indiana.
The programme is jointly delivered by Alliance Manchester Business School and the Kelley School of Business, Indiana University, an Ivy League University established in 1820. The welcome induction was hosted at Indiana University's beautiful Bloomington campus.
Daniel Jiang, HR Manager China, Singapore & South East Asia, Acelity, enrolled on the July 2018 intake through our China Centre and shared his experience with us:
"The orientation and first workshops of the Kelley-Manchester Global MBA started this week at the Kelley School of Business, Indiana University, Bloomington. It's a really international programme, and I am impressed by diverse the group is. There are over 40 participants from 19 different countries. After registration, we quickly began our first day of orientation.

Unlike regular inductions, the orientation was conducted in a very impressive way. We had a chance to tour Indiana University's Bloomington campus and discover the history and heritage of this great American university. The gorgeous Sample Gate, magnificent limestone architecture, elaborately-designed layout and green woods were really jaw-dropping. We immediately indulged ourselves in the beauty of the campus and were amazed by the culture conveyed here."
Another student shared his experience of the welcome dinner, hosted by Idalene Kesne, Dean of Kelley School of Business:
"What left the most significant influence during the induction was the welcome dinner speech made by Idalene Kesner, the first female Dean of Kelley School of Business. It resonated strongly. We were thrilled and touched by her mountain climbing story, the heart and soul she put into each of the programmes Kelley offers, and the three characters the School is dedicated to cultivating: talent to succeed, humility to grow and tenacity to preserve. Kelley is the USA's fifth most successful school in terms of producing Fortune 500 CEOs and first for CFOs. I won't regret my choice to pursue this programme and already, there are a lot things waiting ahead for me to explore further."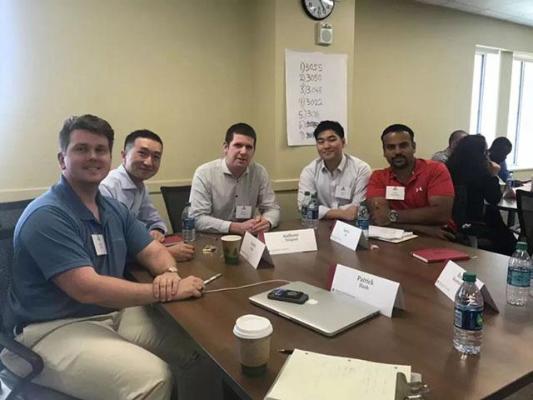 The Kelley-Manchester Global MBA programme combines British and American business teaching in one programme, delivered by top faculty. The two schools jointly offer over 150 years of expertise in management education and business expertise. Students will have the option to study in eight global locations, including home campuses Manchester and Bloomington, overseas centres in São Paulo, Dubai, Hong Kong, Shanghai and Singapore, and facilities in Washington D.C. It is a truly global MBA!