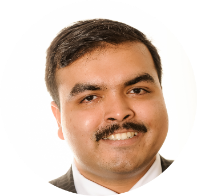 Joydeep graduated from the Full-time MBA in the class of 2017, straight after finishing the MBA he moved to Canada and joined an artificial intelligence (AI) start up in Toronto as advisor to the CEO. After spending some time in Canada, the company had an opportunity for him to move back to India to head their India business. While Joydeep was working with this start-up company in Canada he decided to pursue his own venture which was an idea he had conceived during the MBA business simulation course.
He is now the founder and chief executive officer at digital food and beverage platform Foodinjoy UK. Foodinjoy applies advanced geofencing and artificial intelligence/machine learning to help businesses engage with communities and to provide users with the freedom to choose what they eat. Joydeep is responsible for both commercial and technical aspects of the company with his day-to-day tasks consisting of designing the customer experience, pitching to potential investors and ensuring the product is fit for purpose. He said, "Looking at the three year venture road map, I am currently developing strategic partnerships and collaborations to engineer the right products for our new age customers."
We asked Joydeep what pulled him to this career and industry, he told us he had always been intrigued by people and their behaviour. "My mum initiated me to the world of cooking over 15 years ago and this was when I launched my food blog. In 2009, when I first moved to Manchester for my Masters studies, I worked with students and started to understand the challenges they faced and how important food is for sustenance." Joydeep said with his strong experience in artificial intelligence and remote sensing he embarked on creating a sustainable business solution for the ecosystem.
Before joining the MBA programme, he worked as a research fellow after completing his PhD in engineering. "I thought I was enjoying my technical career, I was looking to make immediate social impact and progress my career outside of the traditional academic path. The MBA was a launch pad into landing a job in strategy consulting." He said the MBA course provided an all-round exposure to managing high-growth and innovative businesses. He praised the MBA, and told us how the MBA fast tracks your dreams, with the broader understanding of business helping him to make the career shift he wanted from research to consulting to entrepreneurship. Joydeep also sits on the board of directors for a non-profit organisation, where he provides executive leadership in supporting an intergenerational platform to form sustainable communities across the UK. Joydeep states how the MBA not-for-profit consultancy project was crucial towards this appointment due to the client work that he did.
Choosing Alliance Manchester Business School was an easy choice for Joydeep, especially as he was already working with The University of Manchester in scientific research. He had also already done an MSc and PhD course in engineering so was very happy with the reputation of the University. Joydeep said, "Studying an MBA was crucial for me and my career development, my strength was in electronics engineering and I knew to progress in my career I needed to have the business knowledge to match." His favourite memory from studying the Full-time MBA was the International Business Project, he worked for a mid-size start-up and got to travel to the USA and Europe, collecting findings for his client and applying his business thinking into practice.
Joydeep told us about the skills he learnt on the MBA and how the MBA really provided him with a set of transferrable business tools that he could then apply to different sectors. He said, "The intense applied learning projects make you street smart and as I worked across different industries, the critical business thinking skills I had acquired during the MBA course helped immensely." He offered advice to anyone looking to apply for an MBA and said how every journey is different, so to always research the course and find out what type of MBA you want to study. "The MBA journey itself is invaluable and you will learn perhaps more during the interactions with your fellow students. Remember that you will only do the MBA once so make it count!"