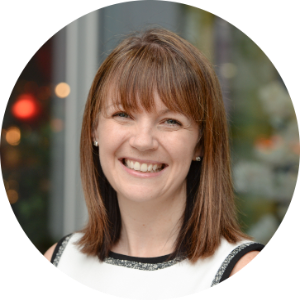 Global MBA alumna Elizabeth Meadowcroft featured in the local news recently to celebrate her achievements at KPMG Manchester. Director Elizabeth is tasked with leading the firm's in-deal value enhancement proposition across the regional market. We met with Elizabeth to catch up about life post MBA and how the MBA helped her get to where she is today.
Elizabeth currently works in KPMG Manchester's deal advisory team, working on integration and separation projects including British Airways' acquisition of BMI and an acquisition in France for Britvic. "These projects are usually long term, British Airways in particular was eight months and we typically get to work through a whole range of interesting integration or separation challenges."
Elizabeth joined KPMG as a graduate in 2004, specifically because of the opportunity to study the Global Finance MBA alongside the graduate scheme. "For my undergraduate I studied languages and I knew I wanted to combine languages with business. I wasn't sure if I definitely wanted to study an MBA but towards the end of my degree I knew I wanted to carry on learning. When I found the option of gaining paid work experience and being able to study, I knew the MBA was perfect for me."
When she started working at KPMG she joined the audit department for a year before beginning the MBA programme, "I spent three years in the audit department while studying the MBA, but I knew that I wanted to be doing something more strategy related. Audit was a great base to learn the nuts and bolts of how a company worked and the financials of a business. But meeting people from different companies during the MBA encouraged me to make the move away from audit. I had learned a lot, but it was now time to move on."
When moving away from audit, Elizabeth knew it was best to look for a job internally as KPMG had so much to offer; she could try something new without having to leave the company. She moved into the transaction services team doing financial due diligence, "This is similar to audit but more structured around the deal. The MBA definitely helped me navigate my direction within KPMG, by giving me good credibility at such a young age." After only a year in this team the markets crashed, during the final stages of the MBA, while Elizabeth was thinking about her dissertation topic. No one was doing deals, so Elizabeth was stuck as to where to go career wise and where to get inspiration from for her dissertation.
Elizabeth needed to think about what she wanted to do next. She received a call from the London KPMG office with an opportunity to join a small team down in the big smoke. "They were looking for someone at my level to be a part of the integration and separation advisory team. I took a leap of faith and travelled down to London to meet with the a director of this team, it all felt safe as it was still internal to KPMG, but I still wasn't quite sure what I was going to be doing." With deal activity slowing in Manchester this seemed like a good option and resulted in her working most Monday to Fridays in London and weekends back in Manchester. With all this going on at work, Elizabeth still had to make a decision about her MBA dissertation topic.
"My dissertation idea came from working in my new department; it was about how businesses pull parts of their integrated business out and sell them off as standalone companies. I focused on the people aspects in my paper entitled "The role of management in sell side carve out transactions". There was very little research on this topic even though it was the bread and butter of what KPMG did within this team, so it was a challenging paper to write. With Elizabeth still part of this department over ten years later the knowledge and research she retained from writing her MBA dissertation has stayed with her to this day.
"The MBA gave me a rounded understanding of business. The usual route to where I am today would have been the ACA. This would have helped me to pull together a set of accounts but the more in depth business knowledge I gained from the MBA helped me to get where I am today. It opened up my eyes to marketing, strategy and corporate finance and gave me a better, wider understanding of a business. It also helped me think about mergers and acquisitions with a business focus rather than just thinking 'what do the numbers say?'
It was good to work with diverse classmates at the workshops we attended; I learned a lot from these people." Elizabeth shared an anecdote from the workshops when she worked on a case study with a classmate from the Middle East; who talked about business in terms of oil prices. Elizabeth had never thought about things in this context before, it opened her eyes to the wider world of business and the global economy. This was a catalyst to learn more from the international class of students that she was a part of on the MBA programme.
Her favourite memory from studying the MBA was graduation day because of the pride she felt for completing an MBA and receiving a distinction. "The MBA was a choice and I had really invested in my learning and the next stage in my career so the graduation was important to me as I look back at the MBA as one of my biggest achievements."
Looking back at her time on the MBA and reflecting, she says she would maybe have liked to have studied the MBA later in her career. With more business knowledge under her belt, she might have taken more from the programme, been more informed to ask deeper, focused questions and been more capable with debates in class. "It would have been a completely different room to be in if I was studying my MBA years into my career."
"At the time I wish I had spent more time understanding the different opinions from around the globe, I could have got even more from the people in the room and learned more about the different cultures. There is definitely something wider to learn from the MBA than just the academics. But having done the MBA at an early stage in my career, I have managed to excel in my career at a quicker pace. I have got myself into new areas of this firm very quickly and found something that I love. The MBA certainly helped me become a director in the firm and get to this point. My experience was invaluable on the MBA and has absolutely helped me grow my career. Had I not done my MBA when I did it, I doubt very much I would be where I am now."