I studied the Global Part-time MBA and graduated in 2019. I am now working for Orsted, a renewable energy company based in Denmark. Their main goal is to create a world run entirely on green energy. I work in offshore wind, part of the operations department on the commercial side. I negotiate big contracts, sometimes worth up to 2 billion dollars. I am also involved in negotiations with countries across the globe from the US to Japan. Being in a commercial role, I look at how things are for the company and the overall bigger picture.
Switching industry
Working in the renewable energy sector came after pivoting from oil and gas where I was in a niche technical role. I knew when I made this transition there were two things I was looking for. I aspired to something that aligned with my personal values and this is where renewables came in. Especially working for a company like Orsted, which is the biggest offshore wind developer. I also wanted to push the scope of what I could do and challenge myself. I was looking for a job that was interchangeable, so I could work in any area of the company and add value. I wanted a job title that would make me more useful and employable.
My MBA experience
I believe the MBA was a major tool I used to help me pivot from a technical to business role. The MBA helped me to understand how business is actually done. I had always experienced it, but the MBA made me see why and understand the rationale for making decisions.
I did my MBA at The University of Manchester Hong Kong centre. The cohort was so varied, it was amazing to see that a lot of issues in companies were the same, whether it was working for Apple, Chanel, or renewable energy. All companies seemed to have the same internal issues, making me realise that I could go and work anywhere as I had the skills and insights that were super transferable. The MBA gave me confidence in myself and the discussions I had with my cohort made me realise I could stand my own ground with anyone. To have all these skills in your back pocket when going for an interview is priceless, or when I am negotiating deals, these skills are worth their weight in gold.
At the time I studied my MBA I was living in Japan, but I didn't know where I would end up next. I needed an MBA that could accommodate a change in location to a variety of places around the world. Knowing about Manchester and its brand and knowing I wanted to study a UK-based MBA as it was an education system I knew, AMBS seemed like a good option. It is a major brand in Asia that is heard of and well respected. With the number of centres in different countries, it ticked all the boxes for me. The idea that I had the opportunity to study workshops at a lot of centres across the world was very appealing and the ranking also helped to secure my decision.
I am using the techniques and skills I learnt on the MBA daily. It gave me the correct business language that I am using constantly in my commercial role. Corporate finance was something I learnt a lot from and also business strategy: looking at the bigger picture helps me when I am now working across markets. There is not a subject I studied that I don't use. I feel I definitely got my money's worth, everything I learnt has enabled me to interact with colleagues and external stakeholders.
Challenges in the renewable energy sector
There are challenges affecting the renewable energy industry in terms of understanding local markets and getting the best out of them. These include market entry with local players, building these relationships and having projects that work, but this is something Orsted are very good at fortunately. We are learning and expanding in this area, but every company has these challenges when they expand.
My advice and favourite memories
My advice to anyone considering an MBA is be aware that you need to put time aside and completely commit to studying the programme. I would recommend using the knowledge you're learning at workshops straight away. Applying things practically is the major benefit of the Manchester Method, so I would say look at how you can apply your learnings internally in your company from the get go. I found by doing this I was getting a lot of value from the MBA very quickly, even from day one. I used the skills I learnt in the negotiations classes for interviews. I was looking at companies and analysing them before an interview, I found this put me ahead of a lot of people.
Overall the best part of the Global MBA experience is the workshops. I only ever ended up doing these in Hong Kong as I was living in Japan when I initially started the programme and then moved to Taiwan so it was the best centre for me to travel to. I made some amazing friends and created both a personal and business network from my time on the programme. The MBA gives you a chance to have some amazing and interesting conversations with people from all different backgrounds, adding value to your network.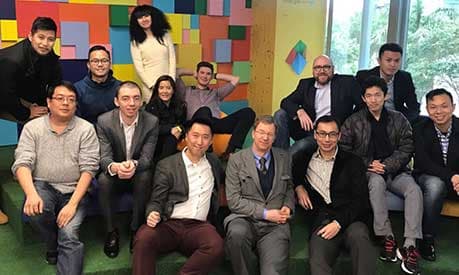 Find out more about the Global Part-time MBA >>>