Improving the long-term health and wellbeing of haulage drivers is crucial to fixing the current driver shortage, say Sheena Johnson & Lynn Holdsworth.
As fuel pumps on forecourts dry up, supermarket shelves and restaurants experience shortages, the supply of Christmas produce is threatened, and many organisations and sectors experience supply chain issues, so government, industry - and all of us - have been forced to consider just how crucial lorry drivers are to the UK economy.
In response business has moved to increase salaries to attract HGV drivers, while government has announced plans to shorten the HGV testing process and release more testing slots, while also offering temporary visas for HGV drivers from the continent.
But the driver shortage for HGVs is now at a crisis level, and the UK finds itself in a perfect storm resulting from many factors.
Ageing workforce
Firstly, the road haulage industry suffers from an ageing and retiring workforce, an issue that we have documented in our research over many years. Then we have the effects of the pandemic which has led to foreign drivers returning home, increased demand across supply chains, and the loss of driver training and qualification opportunities.
There is also the impact of Brexit which has led to fewer EU drivers being available. And then there are also a number of government policies which have further exacerbated the situation such as the ineffectiveness of apprenticeships, and changes to IR35 tax rules which mean businesses that engage contractors through their own limited company are now required to determine whether they should be classed as employees for tax purposes.
On top of all this the road haulage industry is also facing increasing cost pressures through higher freight rates and higher costs of Driver CPCs (Certificates of Professional Competence) and medicals.
Health and wellbeing
As founders of the Age, Health and Professional Drivers' Network (AHPD) these are precisely the issues that we have warning about for some years. The network comprises of transport and logistics firms, unions and industry representatives with an interest in age and health and wellbeing in the transport sector, and with an interest in how to build capacity to exchange knowledge and best practice.
The core purpose of the AHPD is to protect the health and wellbeing of professional drivers and we believe that improving this is now crucial to fixing the current driver shortage and problems around attracting younger drivers to the industry.
Indeed employers, along with customers and the wider UK logistics-working environment, have an important role to play in ensuring that work is not having a negative impact on the health of this ageing cohort of workers.
Health effects
Previous AHPD studies have identified both positive and negative health effects from the profession. For instance, whilst there is the potential for the health of HGV drivers to deteriorate in older age, the findings also showed that if the work is carefully managed and involves an appropriate amount of physical work, then this helps drivers to remain fit and strong and to keep their weight down, as they continue to work into older age.
However our studies have also found that the work of a professional HGV driver in the UK is likely to involve long, unsociable hours, high physical and mental demands, and often long periods of sedentary work. All of these factors can have adverse health consequences for workers, such as musculoskeletal disorders, stress, tiredness and fatigue, and issues associated with being overweight.
Best practice
Surely it's therefore time for everyone to go back and look again at our Best Practice Guidelines – see below - that focus on ten areas of health and wellbeing that our research identified as significant in relation to older drivers.
Positive changes in these areas will help, for example by improving conditions meaning drivers considering retirement may be tempted to remain in work longer. They may also make the job more attractive to younger workers considering entering the industry. The guidelines include:
Rethinking working patterns such as considering flexible working to attract a more diverse workforce.
Changing the organisational culture by focusing less on telematics for micromanagement and being more realistic about scheduling to retain drivers.
Improving the mental health of drivers by reducing stressors resulting from long hours and a poor work-life balance.
Improving the physical health of drivers by encouraging and supporting exercise.
Encouraging healthy eating by providing more opportunities for access to, and availability of, healthy food.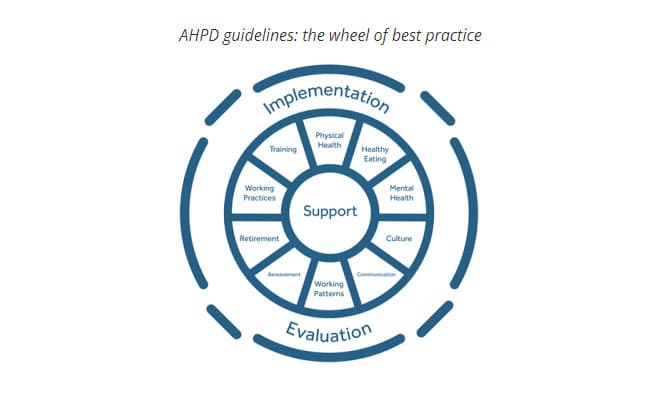 Ideal opportunity
Despite the current challenges we believe that now is the perfect time for the transport and logistics sector to improve the working conditions and lifestyle of HGV drivers and, as a result, improve their health and wellbeing.
After all, never has the industry been under such a spotlight and it must make the most of this attention to drive forward positive and meaningful change.