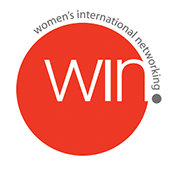 This year Alliance MBS' Women Leading in Business partnered with WIN Manchester for their annual conference.
WIN (Women's International Networking) has an incredible community of women in Manchester, who each year run an inspiring event with local leaders, global talent and inspirational entrepreneurs. This made a perfect match for Women Leading in Business, Alliance MBS' monthly event where like-minded women come together to hear from prominent female business leaders, and share their knowledge and expertise.
Hosted by Claire-Marie Boggiano, Lurig Change & Development, the event was opened by Professor Fiona Devine, Head of Alliance MBS, and featured talks from three keynote speakers, Nazir Afzal OBE, International Adviser on Rule of Law & Former Chief Prosecutor, Kristin Engvig, CEO & Founder, WIN & WIN Conference, and Lucy Danger, CEO, EMERGE. There were also activities with speaker and performer Doug Manuel and performances from opera singer Dr Kelly Firth.
"Together, we created a wonderful event filled with rich and unforgettable moments. We were so happy to be able to meet online this year and present this global-local event with its core in Manchester. Over the years, WIN has welcomed hundreds of enthusiastic participants from the UK to our global and regional conferences. And now, we were delighted to support this fourth regional WIN event in the UK together with Women Leading in Business" said Kristin.
You can hear all of the speakers on our podcast now.
Hold the date for WIN Manchester 2022 - Thursday 23 June - which we hope will be in person.