There are plenty of innovative ways to stay in and enjoy a virtual trip around Alliance MBS, the city and Manchester's cultural institutions and attractions.
New and returning students can learn something new and benefit from exploring Manchester online.
Hopefully, before too long, the Oxford Road corridor will be bustling and full of life once again. Until then, it's definitely worth venturing online to experience the campus and city in a different way…and you won't need an umbrella!
1. Take a virtual tour of Alliance MBS
Make your way through the AMBS building and Executive Education centre in detail with our 360-degree virtual tours. Have a look at our fantastic study spaces, the impressive Eddie Davies Library and the Data Visualisation Observatory. It's the perfect way to familiarise yourself with our building and make the most of your future visit.
2. Experience our campus virtually
From our famous Queen's Arch to our newest spaces for learning and discovery, there's plenty to explore. Take this virtual tour of our campus to get to know the stories behind our walls and see some of the faces that bring our university to life.
University of Manchester campus tour >>
If you have a head for heights, this unique view of our campus (that you definitely can't get from the streets), is ideal for you. Spend two minutes flying over our amazing, historic campus and take in a different perspective of The University of Manchester.
Take a video tour of our fantastic teaching and learning spaces from wherever you are in the world. Join Yulia, one of our students, as she explores the University and all of the academic teaching and learning buildings we have to offer.
Find out about the great facilities we have on campus to encourage a better and more social student life. In this video, hosted again by Yulia, she takes a fun tour of the social and recreational buildings on our campus.
3. 'Walk' Manchester's streets from your home
Manchester is a city like no other; richly diverse, vibrant and buzzing with pioneering Mancunian spirit. Take the University's virtual city tour to catch a glimpse of the streets we walk and get to know our favourite places in the city that will soon feel like a home from home.
University of Manchester city tour >>
Bring to life the streets of Manchester in your own home with a unique and entertaining virtual tour from Invisible Manchester. This alternative tour is delivered by Danny, a tour guide who has previously been affected by homelessness. In his joyful and cheeky manner, Danny takes you on a journey around Manchester through his eyes sharing lesser-known historical facts, personal stories of his time spent living on the streets and even some of his poetry.
Book your virtual tour with Invisible Manchester >>
You can now enjoy the stories of the city and its extraordinary characters and buildings without leaving your home. Jonathan Schofield's free, funny, informative and occasionally moving tours of Manchester have moved online for 2021. Jonathan has a varied and packed schedule covering myriad aspects and areas of the city that will definitely keep you entertained and teach you something new.
Join Jonathan Schofield's free Manchester Zoom tours >>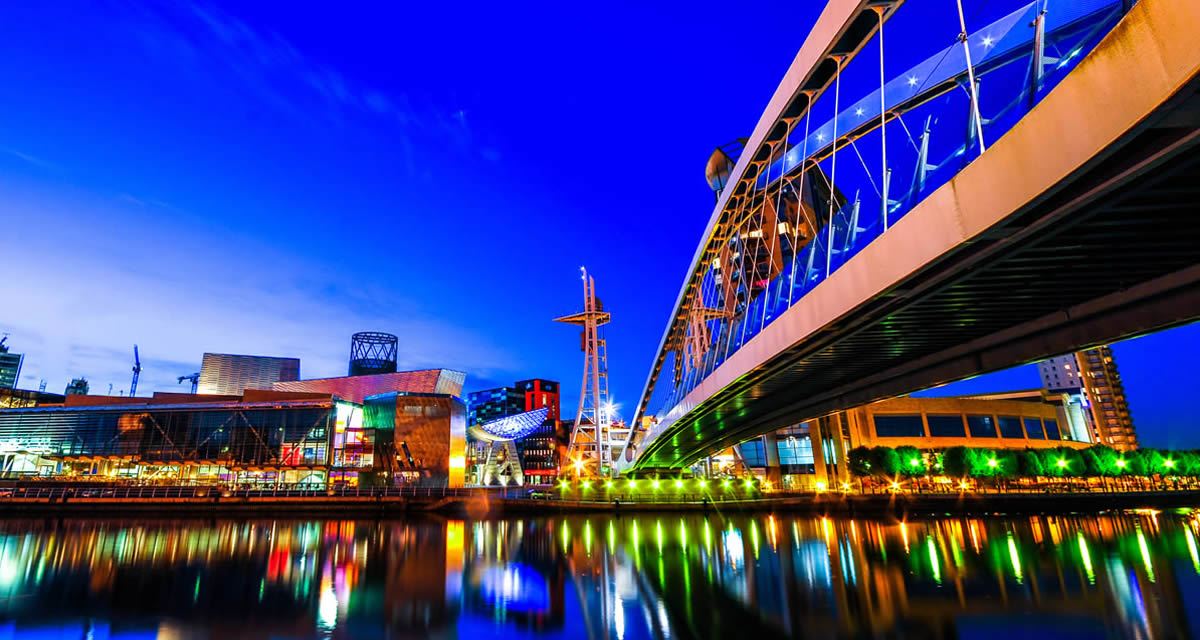 Manchester Taxi Tours can take you on a guided journey around each of the different areas of the city. Their new online guide to the twelve main areas of the city centre features local taxi driver and tour guide, John Consterdine. Equip yourself with a wealth of local knowledge and get to know the city like the back of your hand.
Journey around the city with Manchester Taxi Tours >>
4. Plan an online visit to one of Manchester's cultural institutions
During the pandemic, even though it has been necessary to close their galleries, The Whitworth have resolved to continue their activities online so that people can still access and take part in their programmes. Listen to podcasts, explore their collections, read insightful blogs and learn more about the University's impressive art gallery.
Discover The Whitworth at Home >>
The School of Arts Languages and Cultures, The Institute for Cultural Practices, Creative Manchester, and Digital Futures have 3D virtual tours of cultural institutions at The University of Manchester, and local museums, galleries and other cultural and heritage sites. Currently, you can explore the Manchester Museum, the People's History Museum, the Martin Harris Centre and Band on the Wall. Keep an eye on the website for more video tours coming soon including The Whitworth, Manchester Art Gallery, Contact Theatre, Platt Hall Gallery of Costume and the Manchester Central Library.
Virtual tours from The Institute for Cultural Practices >>
You can also check out lots of Manchester's museums and galleries collections virtually; it's the next best thing to paying them a visit in-person:
5. Take part in an online event
This year, Manchester's Museum of Science and Industry has moved the Manchester Science Festival online. Taking place in February 2021, this year's thought-provoking programme focuses on climate and ideas for a better world. Online talks and exhibitions can be booked on their website.
Discover the Manchester Science Festival 2021 >>
Share in the joy of music and connect with talented artists, musicians and composers with a Virtual Concert series from The University's Martin Harris Centre. In partnership with the Music Department, the Centre welcomes audiences to watch short recitals that are completely free to view and easy to access via YouTube.
Watch the Virtual Concert series >>
During lockdown, Manchester remains a hub of creativity and lots of the city's live events offerings have switched to virtual, streamed experiences. This handy guide from Visit Manchester has details of lots of online events from organisers including The Lowry, Manchester Museum, HOME and the National Football Museum.
View the guide to virtual events happening in Manchester >>
The pandemic resulted in Alliance MBS's busy events schedule making the successful transition to an online setting, reaching a much wider audience. An exciting variety of events are lined up for 2021 including our Original Thinking Webinar series, Vital Topics series, Women Leading in Business and many more lectures and discussions. Students, staff and the wider public can tune in to hear from industry-leading experts and our very own world-leading academics and researchers, as they discuss how their work relates to highly topical issues. Guaranteed to make you feel part of our Alliance MBS community wherever in the world you are logging on from.