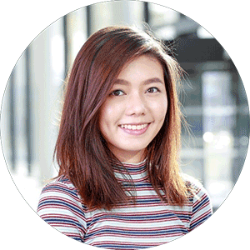 Scholarship winner and student ambassador Danielle, originally from Singapore, shares insight into her experience on the Organisational Psychology master's at Alliance MBS. Having studied her undergraduate degree in the United States, Danielle reflects on what it's been like to study a UK master's.
Where did you study your undergraduate degree, and how does your master's experience at AMBS differ from that?
"I studied my undergraduate degree in University at Buffalo, and I graduated with a Bachelor's degree in Psychology. I worked for 2 years thereafter as a research assistant, then as a project manager in an organisational development company.
"My undergraduate degree was wildly different from my experience here because at Alliance MBS, our lecturers feel like our collaborators and they really respect our views and opinions on lecture content and current events. It feels less like a teacher-student relationship but more like a relationship between colleagues and I truly appreciate that."
Why did you choose to study this Masters course at Alliance Manchester Business School?
"I have always wanted to be an industrial organisational psychologist and Alliance Manchester Business School offers one of the best accredited courses there is for Organisational Psychology. This master's course provides certification for students which most other schools do not offer and Alliance Manchester Business School is also well known for its quality education."
What is the best thing about studying at Alliance MBS?
"The best thing about studying at Alliance MBS is knowing that my lecturers are enthusiastic about my success and they are very receptive to feedback. Education here feels like a partnership with the lecturers rather than it being one-directional."
What's it been like to live and study in Manchester?
"Living and studying in Manchester has been a dream as it is considered a student city, so everything that you need is within walking distance. I love walking to school every day and all my friends are near which make university life easy, fun, and exciting. I would say that it is the perfect city for students as it is not a fast-paced city like London and you are mostly surrounded by students like yourself."
What have been the highlights of your master's course so far?
"The highlight of my master's course is definitely my course mates as I got to form deep connections with friends from all over the world. We share ideas and cultures that are vastly different from each other but we all have a common goal and interest in mind so it makes learning from one another easy and inspiring."
Watch a recorded session with the MSc Organisational Psychology Programme Director discussing the course and studying Organisational/Business Psychology at AMBS >>
Read Danielle's blog posts here >>
Read more about MSc Organisational Psychology >>
Chat to a current MSc Organisational Psychology student here >>