Innovative energy boss and MBA Class of 2016 Class President Cheryl Latham has scooped the 'Outstanding Entrepreneur' gong at this year's Northern Power Women awards.
Cheryl, who founded the first buy-to-give energy company – Brighter World – in 2016, was announced as the winner at the awards ceremony on the eve of International Women's Day.
The 33-year-old from Heaton Moor, Stockport, launched Manchester city centre based Brighter World Energy with two main aims – to provide a great value service to UK customers, while also helping power some of the poorest communities in the world.
She said: "I wanted to empower UK energy customers, giving them the opportunity to change the world, as well as giving them a fair and ethical deal. So, for every 2,000 customers that switch to us, we install a solar powered microgrid in a village in Africa – helping to tackle an energy crisis that currently means 600 million people in Africa are without access to electricity. People should have the same right to access energy – no matter where they are born."
In the space of six months, the entrepreneur graduated from her MBA, bucked the investment trend, as only 10% of global venture capital given to female entrepreneurs, by securing £500,000 investment from the likes of Sir Terry Leahy – former CEO of Tesco and ClearlySo – and launched Brighter World. Since then she has grown the company to an eight-strong team to support her growing customer base.
She added: "I am delighted to have won a Northern Power Women award and would like to thank all my investors for their belief in me. It was a privilege to be in the room with so many inspirational women and men who are setting the agenda for change and helping to close the gender gap. The energy industry has the power to empower women here and women in developing countries to help change their lives and the lives of their families."
This was the second annual Northern Power Women awards, which were founded by Simone Roche.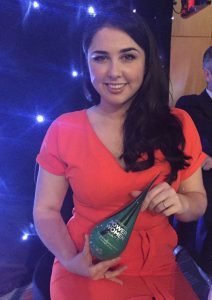 Other winners at the awards, held at the Hilton Hotel in Manchester, were One to Watch: Kriti Sharma, of Sage UK, Mentor of the Year: Denise Chilton, owner of Denise Chilton Ltd, Person with Purpose: Ema Wilkes, founder of Neo Community Café and Catering Ltd, Agent of Change: Emma Keith, Royal Air Force, and in the same category Hazel O'Keefe, of Women In Comedy was highly commended, Transformational Leader: Jane Farrell, Sodexo, UK & Ireland, Small Business of the Year: Airco Centre of Excellence, Medium Business of the Year: Mediacom North, Large Business of the Year: Sage UK.