The Scale-Up Forum is a peer-to-peer network of ambitious fast growth businesses in the North West and beyond. It is led by fast growth businesses, for fast growth businesses and facilitated by Alliance Manchester Business School (AMBS). This year, AMBS are hosting four Scale-Up Forum workshops to create an environment where leaders of growing businesses can network, discuss and share experiences with their peers and take away valuable information and learning back to their organisations.
The first of these workshops took place in February, which included on the panel Liam Manton, co-founder of South Manchester based Didsbury Gin.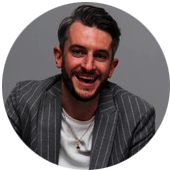 Just over two years old, Didsbury Gin started from two friends sharing their hobby of making gin and rapidly became a successful scale-up business, with their turnover doubling in the first three months of this year alone. Liam discussed the important role that support for scale-ups played in this growth, explaining that, "the whole scale-up journey for us has been a really positive one, but we have only been able to do it with this infrastructure and support".

Liam emphasised how access to experts across the different business areas helped his business grow. Didsbury Gin has always utilised expert help, including at the very beginning when they secured investment from the Dragon's Den TV show. It wasn't just the money that Liam and his partner needed, he explained, but also the "invaluable" expertise that a practised investor can provide.

"Find people who are better than you and pay them to do it" was Liam's message. He stressed that the founders of businesses shouldn't try to be an expert in all things, rather they should focus on their vision and ambition for their companies whilst bringing in people who are specialists in specific aspects of the business such as marketing, PR, legal and accounting.

Being part of a scale-up forum provided Liam and his co-founder with a network through which to find these experts, including the members of the Didsbury Gin board. He admits that he was initially sceptical of using service providers through a scale-up programme, but ultimately found having access to this network vital to the success of the company. Although he acknowledges that there is a cost overlay involved with bringing other people into the business, this is balanced out not only by the business growth it can help to achieve, but also by harnessing the knowledge of people who have made costly mistakes themselves in the past, and therefore know how best to avoid them.

Liam touched on how uncertainty in the wider economy, caused by factors such as Brexit or the recent volatility of the pound, can negatively impact small growing businesses who can feel their effect severely due to often operating on very tight margins. To combat these, he emphasised the importance of leaning on a wider team of experts through scale-up networks, and balancing this with "gut and instinct" when making decisions.

With the uncertainty all businesses now face due to the as-yet unknown effects of Covid-19, these networks may prove to be more important than ever in the near future.

Join the next Alliance Manchester Business School Scale-up Forum on 18 June by registering here.