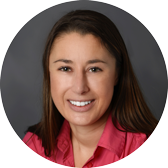 As Chief Information Officer (CIO) for the UK and Ireland at global real estate firm JLL Joanne Ormandy is seeing first-hand the huge impact that technology is today having on the sector.
The whole field of 'proptech' - property and technology – is a fast and dynamic one that is rapidly impacting the real estate industry as innovative technology solutions transform traditional practices such as viewings, valuations and building management. The drive has been only accelerated by the pandemic with property companies realising they need to quickly embrace new technologies to remain competitive and efficient.
Studies
Proptech is the precise subject of Joanne's Doctor of Business Administration (DBA) studies at Alliance MBS where she is currently in her third year. However her interest in how technologies are transforming the global world of business is deep-rooted.
Her first degree was in biotechnology, specialising in bioinformatics, and she has since worked across the world in marketing, finance, and strategy roles for various Fortune 500 firms. She also completed a MBA from Alliance MBS in 2017 at our Hong Kong centre while working there.
In her present role she manages a team of more than 60 people supporting more than 4,000 daily users, while her job also involves defining and implementing the technology strategy for the business. "My job is essentially to make sure that all our tech services are running smoothly while the company also has a vision that it can deliver."
Balance
Joanne says juggling such a high-profile job with her studies is inevitably challenging, but is worth it for the rewards.
"A DBA is a journey, so it's important that you are passionate about the topic you plan to study. You also need to be persistent and focused as at times it can be difficult balancing work, family, and research responsibilities at the same time. It is also something that you have to work on every single day, so you need to be very disciplined and have a very understanding family and support network around you.
"But it also an extremely rewarding experience. I love doing my DBA and being supported by world class experts who challenge me. Also, if you are clear on why you are doing it and how it will support your career aspirations, I would highly recommend it. It can take your life along new and exciting paths, provide unique opportunities, and allow you to create a new chapter in your life."
Benefits
She says another key benefit of a DBA is that because it is specifically designed for business professionals you can combine your own market experience with the academic literature and make a distinct industry contribution.
"A DBA sets you apart in the marketplace and gives you the opportunity to spend time focusing on a topic you're passionate about. I enjoy researching so I am spending time doing something I love, while at the same time I'm developing my research skills and critical thinking. There is then a reciprocal benefit as I can apply what I learn to my job, and apply what I learn in my job to my studies."
Importantly, she adds, it gives her the opportunity to think differently and more critically.
"I am meeting people outside of my corporate job and industry who have a different point of view, with different backgrounds and experiences. I have a challenging day role, which I enjoy, but at times it can be very intense. Being submersed in the academic world allows me to take a different perspective on problem solving, and analyse situations at a deeper level."
Prestige
She adds that a DBA, similar to a PhD, holds with it a certain level of prestige too. "It shows you have completed the highest degree in your field. This is important, as it recognises the enormous effort, commitment and rigour required to complete a DBA, which shouldn't be underestimated. However my main motivations were to challenge myself and to contribute to important research within my field, and to be able to communicate with in-depth knowledge around important industry topics."
At some point in the future Joanne says she would like to pursue a more academic career.
"I enjoy research and would like to continue contributing to academic learning. While not immediate, in the future I would like to look at opportunities within academia, outside of the corporate world. Having a DBA will be critical for this as it allow me to make the career transition.
"At the end of the day I have a love of learning and grew up around books and family members who were teachers, academic doctors, and professors, so the world of research is very familiar to me."
Joanne's academic lead supervisor is Joseph Lampel, the Eddie Davies Professor of Enterprise and Innovation Management at Alliance MBS. He said: "Joanne brings a combination of rich practical experience with a remarkable ability to use cutting-edge theory to bring new insights in her chosen topic."