The University of Manchester and Alliance Manchester Business School have a long history of working with China across research, teaching and learning. Every year, we welcome thousands of Chinese students to our courses.
The University has a dedicated China institute, an on-the-ground centre in Shanghai and partnerships with several Chinese universities to deliver joint degrees and exchange programmes. Through its Executive Education Centre, Alliance MBS also delivers management training to delegates from high-profile Chinese organisations every year.
In 2019, Alliance MBS launched another exciting exchange agreement with Renmin University of China (RUC) in Beijing. This collaboration has enabled two PhD researchers, Yao Wang and Qun Wang, to spend a year in the School's accounting and finance division.
Focus on corporate governance
Yao and Qun applied to the scheme because they had not studied abroad before and they wanted to do an exchange at a high-ranking university.
Qun is in the third and final year of her PhD and her research interest is corporate governance and corporate finance. Her research investigates how investors view government subsidy by comparing the market reaction to an unexpected enactment and cancellation of government subsidy policy. The results show this leads to a larger decrease in firm value for non-state-owned enterprises compared to state-owned enterprises. The findings suggest that the regulation, which aims at promoting fair market competition, may not achieve its policy objectives from the perspective of investors. Instead, it causes concerns about a potential increase in financial discrimination against less politically-protected firms, making them further disadvantaged in capital acquisition.
Her supervisor, Colin Zeng, Senior Lecturer in Accounting comments: "Such international collaboration will enable us to pool talent to address global challenges that no institution can tackle alone. I have really enjoyed working with our visiting PhD researchers. It has been an excellent experience."
Yao is in the second year of her PhD, which also focuses on corporate governance and corporate finance. She is researching the impact of stock market liberalisation on corporate tax avoidance, with a focus on the "Shanghai-Hong Kong Stock Connect" policy implemented in China in 2014. This policy is regarded as an important measure of Chinese financial market liberalisation, and contributes to introducing foreign investors to the Chinese stock market. Her research shows that this policy can significantly inhibit corporate tax avoidance and serve as an effective external governance mechanism, promoting the regulation of corporate behaviour, and helping improve the efficiency of tax administration.
Supervisor Ning Gao, Senior Lecturer in Finance comments: "It is a real pleasure to work with Yao on law enforcement in China and its unintended consequence on firms' stakeholder responsibilities. It offers a good sense of fulfilment to be an essential part of the effort to develop the career of a young PhD scholar who potentially contributes to cross-country collaborations. I am thankful for this opportunity furnished by AMBS and RUC. Adding to the pleasure is my historical link with RUC as one of its undergraduate students. "
A new research environment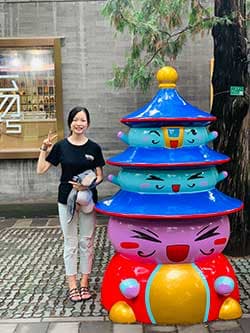 Arriving to study in a new country can be a culture shock, but the researchers have noticed some positive differences – from having their own office to living more independently. In China, the researchers lived in a school dormitory with catered meals and they studied in the library with undergraduates. Here, they have fixed desks in an office shared with other PhD researchers. "I think the study environment is very good here," said Yao. "I can discuss my paper with my supervisor every week. It's very good for my research." Getting to know people from other countries through the PhD has also helped broaden their minds and given them fresh ideas. As Qun says, "In our office, there are students from India, Singapore and Taiwan. We can exchange ideas with them and we've become good friends.
Exploring the UK
Manchester is one of the UK's major cities, but Beijing is on a different scale with a population of over 20 million. This has given Qun and Yao the chance to experience life in a different type of city. "I like Manchester – it's not too noisy or quiet; it has a good balance," said Qun. They have taken advantage of being able to go to Manchester's famous Chinatown when they feel homesick to enjoy a hotpot or traditional Chinese cuisine. "The food is delicious. I also go there just to get a familiar feeling from looking at the people."
The researchers have noticed that people in Manchester are friendly, more relaxed, happier and have the freedom to be themselves. In Beijing, they feel that people are more stressed because the city is busier, they work longer hours and they don't have much quality time for themselves. In the first semester, Qun and Yao also made the most of the opportunity to travel around the UK. They visited nearby cities like Chester, Leeds, Liverpool and Sheffield, as well as the famous Lake District national park. "The scenery is very beautiful; it was an unforgettable experience.
Coronavirus strikes
Unfortunately, during the second semester of the exchange Covid-19 spread to the UK. Yao and Qun have chosen to stay in the UK. They are continuing their research remotely and making the most of online meetings with friends and supervisors.
The virus hasn't stopped them from making memories that will last a lifetime: "I think the people we have met will be my best memory," said Qun. For Yao, the festive period will always be memorable. "At Christmas the PhD researchers and teachers came together for a dinner, it was a very warm and happy occasion."
Post-PhD plans
After finishing their PhDs, both researchers plan to apply for university teaching positions in China. Studying abroad is looked on favourably in China and will give them an edge over other PhD graduates. Unsurprisingly, the exchange has also helped them to improve their English skills. "I was always afraid that people could not understand me because I would make mistakes," said Qun. "Being here has pushed me to speak more and I have found that people can actually understand my English."
Find out more about the Manchester PhD >>
Due to Covid-19 exchange programmes for the next academic year are currently under review – please contact our team for further information.