An independent review, led by British Entrepreneur Ron Kalifa OBE, that sets out a strategy to put the UK at the top of the global fintech league table has profiled Alliance Manchester Business School's "dual mission" to support the growing fintech revolution.
Through developing cutting-edge research and supporting the next generation of talent, the business school's Professor of Financial Technology and Information Systems – a role created last year – has highlighted the role the region and higher education institutions can play in helping the UK to become a success story in the fintech sphere.
The review, released today, highlights the opportunity to create highly skilled jobs across the UK, boost trade and extend a competitive edge over other leading fintech hubs.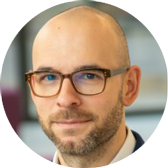 Markos Zachariadis, Professor of Financial Technology & Information Systems at AMBS, said: "At Alliance Manchester Business School we're on a dual mission. We are developing cutting-edge research to support the fintech revolution, and we are dedicated to educating the next generation of analysts, managers, stakeholders, regulators, investors, and entrepreneurs."
"The North West is well-positioned to accelerate this mission and has a huge part to play in cementing the UK's position at the top of the global fintech league table. Home to dozens of fintech scale-ups and innovation clusters, we have a real opportunity to be at the forefront of this revolution."
The Kalifa Review of UK Fintech forms part of Chancellor Rishi Sunak's plan to make the UK the most open and dynamic place in the world to operate a financial services business. As part of the review, the government is now examining the recommendations laid out in the report.