CABS Report: Business Schools and the Public Good
The final report of the Taskforce presents 20 exemplar case studies of institutions delivering public good in the UK business school sector, including practices at AMBS. At AMBS, the promotion of 'public good' is realised through our social responsibility strategy. The report draws attention to the influential role of the SR committee and its Chair, Professor Hongwei He, Director of Social Responsibility at Alliance MBS, in driving change at the School.
The CABS Taskforce was set up to consider how business schools understand, approach and deliver 'public good' through teaching, research, internal operations and external engagement. It looks to promote best practice and open up a wider public conversation on the purpose of business schools. Looking to the future, it recommends ways in which business schools can, together with students, policymakers and industry, go further in delivering public good across society.
The report highlights how at a local level, AMBS has advanced its University's vision of public good:
"Over the past three years, with a ring-fenced budget to support strategy development, the work of Alliance MBS' SR committee has enabled the School to report activity towards each of the 17 SDGs from across its teaching, research and engagement activity."
The report draws attention to initiatives implemented at the University and AMBS including Ethical Grand Challenges, AMBS' undergraduate SR scholarships, its HR policies and the work of the School's ED&I (Equality, Diversity and Inclusion) Committee to name a few. It also points to how the School is committed to delivering public good through aspects of procurement and internal operations including a commitment to Fairtrade and the Workers Rights Consortium.
CABS Report Taskforce Launch panel
To mark the publication of the CABS report, on 14 June 2021, a panel session was held to discuss the work of the taskforce: "Chartered ABS Taskforce Launch: Business Schools and the Public Good". Professor Hongwei He spoke on the panel and took the opportunity to highlight AMBS' role in forwarding a world-leading SR strategy and agenda.
The launch event discussed the contribution business schools make to public good and heard perspectives from Tom Levitt (Author and Co-Chair of Taskforce and report), Professor Martin Kitchener (Cardiff Business School) and Lisa McIlvenna (Deputy Managing Director, Business in the Community). Professor He offered a unique perspective on the panel as the only business school SR lead from an academic background.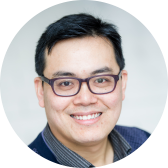 "In the session, I talked about how AMBS is a purpose-led organisation that aligns its values with the University and is fully committed to the University's strategy of placing SR as a core strategic goal. I shared the experience of how public good is achieved in AMBS, how SR is fully embedded in our research and teaching and the various initiatives and programmes that we have in place to ensure this."
"I discussed the important role of governance and our committees in ensuring that the SR strategic goal permeates the whole university; aligning the SR agenda at different levels of the university, and involving and engaging as many colleagues (academic and professional) as possible in delivering our SR strategy."