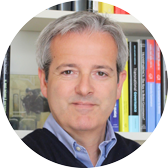 Dr Ning Gao, Senior Lecturer in Finance, and Dr Alice Liang Xu, Lecturer in Accounting, have also been appointed as deputy directors at the Centre which undertakes research of relevance to stakeholders impacted by the risks associated with financial investment.
Quattrone, who is a Professor of Accounting, Governance and Society at Alliance MBS, said there had never been a more interesting time in the global financial system in which to be taking on the role. "The present is uncertain and the future is full of question marks."
He said one of the key developments of recent times was that finance and accounting solutions have finally realised the importance of Environmental, Social and Corporate Governance (ESG), while new data technologies now enable high frequency trading, faster decisions and greater availability of data.
"Whether these trends will improve the quality of investments, decision-making, and transparency, and will benefit society as a whole, is to be seen," said Professor Quattrone. "It is our task at CAIR to draw on the expertise in the Accounting and Finance division here at Alliance MBS, and the wider School, to shed light on these big issues."
He added that he would particularly like to thank former CAIR Director Michael Bowe for all his work. "Mike did an amazing job during his directorship and I have big shoes to fill. However I'm delighted and very excited to be taking on this role."