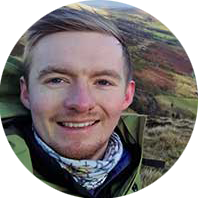 Nick Matthews is a final year PhD researcher at the Manchester Institute of Innovation Research. He joined our PhD programme after studying an undergraduate degree in natural sciences and a master's degree in systems biology at The University of Cambridge. We met Nick to talk about his journey and his recent internship at the Government Office for Science.
As a science graduate, why did you decide to enrol on a PhD at a business school?
"After graduating with a master's in systems biology, I wanted to switch to something broader and I was always very interested in politics. My thesis is looking at sustainability issues around biotechnologies, so it draws on my background but I am considering the broader implications of emerging technologies and how we can govern them.
"The conversion I have made is not a normal one so you need a supervisor who supports that. I've actually got two supervisors here: Dr Laurence Stamford in the Department of Chemical Engineering and Analytical Science department, and Professor Phil Shapira here in the business school. With a PhD it's very different to picking your undergraduate and master's degrees. The supervisor and the research environment are key, as well as funding opportunities. I ended up in Manchester and I am really enjoying the city. I've also enjoyed the changeover from natural to social sciences. It was very difficult initially, but definitely worth it and I don't regret it. I'll be sad to leave Manchester."
What does your PhD focus on?
"The field is called synthetic biology. You may have heard of nanotechnology, which people are using as an enabler in a variety of fields. Synthetic biology does a similar thing but for biotechnology; you can potentially get microbes to produce all sorts of products and there are applications in health for drug discovery, vaccines and cancer treatments. I am particularly interested in bio-based products like bioplastics. They potentially have benefits in terms of tackling climate change, but the sustainability questions are complicated. The focus of my research is on how we can make that conversation broader and implement a responsible research and innovation approach. It's interesting, and it's fun!"
Could you tell us more about the three-month internship that you did?
"I did a UKRI (UK Research & Innovation) internship. It's quite a big scheme. I received EPSRC funding for my PhD, and if you have UK research council funding you can apply for this internship scheme. There are lots of placements available across different government departments, organisations and charities.
"I applied to the Government Office for Science (GOS) as it looked relevant to my PhD. It's not necessary for it to be relevant but as it happened I ended up in the emerging technologies team.
"GOS advises the Prime Minister and members of the Cabinet, to ensure that government policies and decisions are informed by the best scientific evidence and strategic long-term thinking. It is made up of various teams, including those that manage and promote the government science and engineering profession, provide science advice to government in emergencies, and review the broader science and technology landscape and key emerging issues. The emerging technologies team does a lot of horizon scanning – looking at how we can highlight technologies that might be coming, and identifying which are relevant to government and their potential implications.
"It was a three-month placement which I could do any time in 2019, so I started in July after my second-year annual review. They asked me what I wanted to get out of it and I just wanted them to throw me into it. For me, it was a test of 'is this the kind of environment that I enjoy?' I didn't want artificial protection from the difficult stuff. I ended up working on a few different projects and my main focus was around high-performance computing. The technical focus was different to what I'm focusing on for my PhD, but in terms of thinking about the future, the implications of technologies and how you govern technologies, it was quite relevant.
"I also worked on promoting "futures thinking" and the use of foresight tools across government to enable better long-term thinking across government. MIOIR and AMBS have a lot of history in this area and have worked with the GOS in the past. I worked with the team on developing some new resources, for example a 'Guide to Future Thinking'. That was particularly useful for me as it was a different kind of writing to what I was used to.
"I got the sense that the internships really help GOS as they continually want new perspectives. They recruit a lot of PhD interns and PhD graduates. It gives them access to skills in research and new perspectives and ideas, so I felt I was able to contribute to that. It was great to take three months off to do something different. It really helped my writing skills and I came back refreshed to continue with my research."
What would you like to do after you finish your PhD?
"I'd definitely be interested in working for the government so this was a good trial for me. I really enjoyed it. At this stage of my life I will probably 'follow the job' as long as I'm in a fairly big city. But I'll take a bit of time out to think and explore a few options like the Civil Service, think tanks and non-profits. I can imagine myself coming back to academia at some point, but I'd like to step out and do other things before that."
What have you enjoyed about your PhD at AMBS?
"AMBS has some great academics and being situated in Manchester is very good. There's a lot going on here in the city, at the University and especially around innovation, so it's a good place to do innovation research. The new AMBS building is helping to improve the research culture – those corridor interactions are so important."
Find out more about the Manchester PhD >>