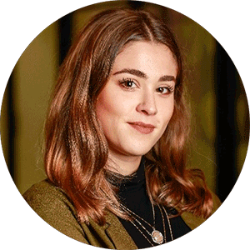 MSc Innovation Management and Entrepreneurship student and scholarship winner Iulia Ticau spoke to us about her experience on the course so far and gives her insight into studying in Manchester.
Why did you choose to study MSc Innovation Management and Entrepreneurship?
My decision was influenced by the ranking of the University and also by the fact that the course offers a set of new and different subjects. This was attractive for a student like me that wants to develop an entrepreneurial career, but also wants to make a difference.
What aspect of the course do you enjoy the most?
I enjoy that it is mainly based on teamwork, which develops my communication and organisational skills. I also enjoy the way the lectures are delivered, with some of them using an interactive approach. It is a course that gives you the opportunity to express yourself, to think freely and that promotes a new way of doing business.
What advice would you give to those applying to the course?
Do your assignments on time, don't leave everything to be done on the last night before the deadline. Pay increased attention to time management as there are many deadlines that you need to deal with within a short period of time.

What made you want to come to Manchester to study your master's?
I specifically chose Manchester as I find that, as well as being a well-developed city, it is a student place where I can meet people from various cultures that I could learn a lot from. I feel that Manchester is a place that offers a lot of job opportunities where students can easily find an offer that suits their personality, but also where they can also get a lot of support for their start-up ideas. I also need to specify that the School has a Postgraduate Careers Service which is fully dedicated to helping students find their path in their future careers, as well as the University's Career Service which is really helpful.
Read more about MSc Innovation Management and Entrepreneurship >>