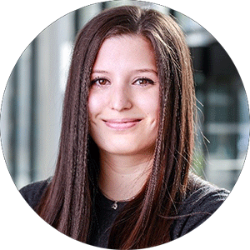 MSc Management student ambassador Flora Harai shares her experience of studying a master's at Alliance Manchester Business School.
Why did you choose to study this master's degree course at Alliance Manchester Business School?
"Since I have no previous business or management knowledge, but want to work in this field in the future, doing MSc Management was the perfect fit for me.
"The city was also an important part of my decision. I like the size of the city, it is big enough that I can find everything I want here, but small enough that I can walk to most places. Something is always going on in the city or in the University, such as concerts at the Students' Union, which makes living here so much more fun."
What were you doing before your MSc?
"I did my undergraduate degree at Durham University in Combined Honours in Social Sciences, in which I studied Anthropology, Sociology and Spanish."
What is the best thing about studying at Alliance MBS?
"The best thing is that I have been able to meet a lot of different people from all around the world. Also, the professors are very good at making the material interesting therefore, even the 'boring' parts of the course are fun and all of them are very approachable.
"I also like the new AMBS building, it is amazing!"
How much time do you spend in classes and in private study?
"I had four units in my first semester. Each unit has one 2-hour long lecture and one 1-hour long seminar per week. Outside of class, I read through the materials for lectures, prepare for seminars, and practice exercises for specific units which takes up the afternoon of my day – I have my lectures in the morning. When we have to prepare a group assignment, additional time is needed for meeting with group members which takes around 2-4 hours per week."
How would you describe your student experience so far?
"I've thoroughly enjoyed my experience so far both academically and socially. I have participated in many social events and many events in the city, but also kept up with my academic commitments by having good time management skills."

Chat with Flora about the course and her AMBS experience >>
Read more about MSc Management and the entry requirements >>