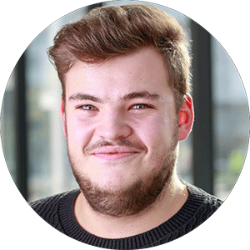 Why did you choose to study MSc Human Resource Management and Industrial Relations?
I chose to study this course because I really enjoyed studying my management degree at the University and wanted to continue to learn about the area that interested me most during my undergraduate degree.
What's the best thing about campus?
One of the most enjoyable aspects of my master's so far this year has been studying in the new Alliance MBS building. I took a year out after finishing my undergraduate degree and in the interim, the new building has been completed and it is a huge upgrade on the old one in my opinion. The lecture and seminar rooms are really spacious and well designed, and there's lots of space to relax and study in-between lectures and seminars, or even on days off if you want to get out of the house and do some extra work.
What advice would you give to those applying to the course?
One main piece of advice I would give to anyone applying to the course would be to do as much research as you can on the course and the various units so that you can make an informed decision on whether the course is right for you and fits your interests and future aspirations. When you start studying, the course outlines for each unit are very useful and it's important to be familiar with them to help you get organised for the semester.
For more insight, chat to a current master's student here >>
Read our tips on submitting a successful application here >>