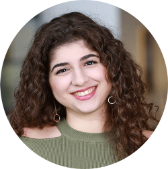 Thinking about studying for a Masters degree? Current student Sofia Teleme tells us about her experiences of living and studying in Manchester.
Why did you choose to study this Masters course at AMBS?
The thought of understanding and researching the links between people, motivation and organisational performance had always excited me. This is why I decided to pursue a Masters in International Human Resource Management and like most students, I was looking for the best university to help me achieve my goal.
I was intrigued by the rich academic heritage, the dynamic research culture and the world-class reputation of the School. The main reason that made me choose this course was its business oriented attitude and the international and comparative standpoint from which it views and examines the reality of human resources in our constantly changing globalised world.
Finally, being one of the top UK universities and one of the most targeted by employers, AMBS won me over. Today, having attended the course and because I am involved with the 2017-18 AMBS student body, I can say with certainty that I made the best choice.
What is the best thing about studying at AMBS?
One of the main assets of AMBS is its amazingly diverse student body. Every day I have the chance to meet and discuss with people from all over the world, learn about different cultures, exchange ideas and grow, not only as a professional but also as an individual. In addition, I have been fascinated by the amount of sessions, seminars and events that are organised daily by the University Library and the Careers Service and focus on honing students' skills. AMBS instils you with the confidence to go after your dreams and actively supports you through the process.
How would you describe your student experience so far?
So far I have thoroughly enjoyed student life at AMBS. Everyone has been very welcoming and from the first moment I felt that I belong here and that this Masters journey is going to be a life changing experience for me. All the different units, led by very knowledgeable and approachable professors, are extremely interesting and have already helped me broaden my academic scope and enhanced my critical thinking towards challenging real world situations. The University's facilities are the best that I have ever seen and combined with a beautiful campus located equally close to nature and the city centre, this provides a unique student experience. I already feel that time flies and I do not want this year to end!
What's the best thing about living in Manchester?
I think that Manchester is the ideal student city. Having one of the largest student populations in the UK, it is extremely diverse and vibrant. You can never be bored here as events, fairs and concerts are organised on a daily basis and many of them are free or have very good student discounts! Whether you enjoy walking in the parks, learning about art and history in the galleries and museums or dancing the night away in one of its famous nightclubs, Manchester is not going to disappoint you.
What advice would you give to anyone considering studying at Alliance MBS?
I still remember being in this position myself last year, having to choose different universities and feeling confused and uncertain. What I think really helps is researching the course handbook thoroughly and identifying the differences between the MSc in Human Resource Management and Industrial Relations and the MSc in International Human Research Management and Comparative Industrial Relations, so that you understand which suits you best.
Also, do not hesitate to contact current students and ask them questions since they can give you a clearer view of the Masters experience. Once you have completed your personal research, just go for it! It is a world-class business school that supports you at every step and is capable of changing your whole future. I can honestly tell you that I have not regretted anything with regard to my decision to study at AMBS.
Find out more about Masters courses at Alliance MBS >>