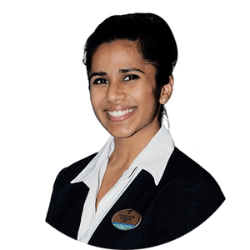 Why did you originally choose to study your course at Alliance MBS?
Alliance MBS is one of the few business schools that has triple accreditation, offered a CIPD approved course and is one of the top-ranked business school in the world. I felt that the course units offered were detailed and were important to understand the subject matter. It ticked all my boxes.
Did you always know you wanted to do the career you're in?
I actually did not know where exactly I wanted to work when I started with the course, but I was always interested in training. Through the various projects that we had throughout the course, I understood that my strengths included presenting, communication, and leadership skills. This reiterated the fact that training in HR is what I wanted to do as a career.
What has your career journey been like since graduating from Manchester?
Ever since I left Manchester, my journey has been an absolute roller coaster. Working on a cruise ship as a trainer and travelling the world at the same time is a dream come true. The lessons that I learnt while studying in Manchester were invaluable for the success that I achieved in my career.
Tell us about your current career and day-to-day responsibilities?
I conduct various training sessions, manage training compliance of about 2000 employees, professional career coaching of employees, recruitment and selection of employees applying for a new role.
Were there any units that you found particularly enjoyable or beneficial?
Looking back, Labour law and Comparative Industrial Relations were not only the most enjoyable but the most helpful as I could apply the learning effectively in my professional career.
Did the skills gained from your time at Manchester prepare you for your career?
My time at Alliance MBS has given me immense confidence to deal with complex situations calmly. Having given numerous presentations and defending my topics in front of professors who are experts in their fields for a year, made me stronger both on an academic as well as on a personal level.
What was the most surprising takeaway from your course that's helped you in later life?
One of the most surprising things that I took away from my year in Manchester is meeting people from so many parts of the world and working closely with them. This was a tremendous help in my career as I was able to understand and value different cultures and working styles.
What advice would you give to a student looking to start your course or join the School?
What sets Alliance MBS apart is the amazing professors who are not only leading experts in their fields but also outstanding teachers who will try their best to give you every opportunity to excel.
My advice would be, do not be afraid to ask for anything. For example, HRM in Asian countries was a new course unit being introduced that year and Dr Arjan Keizer (the then International HRM Programme Director) said that they didn't have enough materials for HRM in India to include it as a unit that year. I wanted to know more about the HR and industrial relations practices in India so I asked him if I could help him with the research, so it could not only help me but also be included in the curriculum in future. He was more than happy about this initiative and gave me all the support for the same.
So, if you feel that you would like to know more or feel that something could be made better, the professors are humble enough to take your point of view into consideration and help you to the best of their ability.
Read more about MSc International Human Resource Management and Comparative Industrial Relations >>