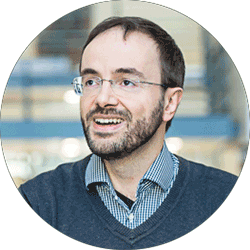 Dr Adrien Querbes, a lecturer on the MSc Innovation Management and Entrepreneurship course, has delved into his teaching style and discussed the type of content he covers in his course unit, 'Tools and Methods for Innovation Research', and how his personal research informs this teaching.
"A central component of my teaching is to build on the experience I have as a researcher, particularly on my interest in studying the ongoing challenges of technological innovation. The result is my predilection for 'issue-based research' where the business, social and technological contexts are the drivers of a research project.
"First, this requires working towards pluridisciplinary solutions, building on a broad understanding of the theories and methods of social sciences to generate a deep understanding of all the dimensions of the problem at hand.
"Second, this is a perfect opportunity to bridge theory and practice by using the research to answer a range of issues from everyday management to global challenges. Understanding the reasoning of decision-makers in the environment is a significant source of intellectual contributions and theoretical progress.
"Third, by putting the decision-makers at the centre, we can have a real impact in the world, providing solutions that are well-grounded on the complex demands of the economic world.
"Building issue-based research also requires constant innovation in research methods. These innovations come from different sources. On one hand, computational techniques have made some tremendous progress in recent years. Techniques such as networks and graph analysis, agent-based models of simulation, or big data are now pervasive and help bridge theory and practice. On the other hand, behavioural sciences are providing new and essential contributions to understand decision-makers in their business and technological context.
"These new insights contribute to my teaching very deeply, also because by learning more about human behaviours we also learn about ourselves to make better decisions. In a nutshell, through my teaching, I want to encourage my students, the future decision-makers, to study businesses and technologies as complex, diverse, and evolving entities strongly embedded in social and long-term dynamics."
Read more about MSc Innovation Management and Entrepreneurship course units >>
Chat to a current student studying MSc Innovation Management and Entrepreneurship >>