The Theresa May brand is seen as more competent than that of other party leaders Jeremy Corbyn, Tim Farron and Nicola Sturgeon, says Gary Davies, Professor of Strategy at Alliance Manchester Business School, and an expert in branding and reputation management.
In research he conducted in the last week of May, 570 voters gave their views on how they saw each of the four political leaders. "For being trustworthy, May and Corbyn are close, a triumph for Corbyn given his public image only a month ago," said Prof Davies. "But our survey shows May ahead on competence by a wide margin. If she holds that lead, the Conservatives should get the substantial majority they expected at the start of the campaign."
Prof Davies stresses he is not a political pollster and believes that opinion polls are unreliable partly because they ask people too far ahead of time about a decision that can be made or changed close to polling day – or even inside the polling booth.
Instead, his previous work has shown a strong relationship between the image of the leader in people's minds and that of the party, and that two key image factors explain actual voting behaviour - how trustworthy and competent is the image of the party leader.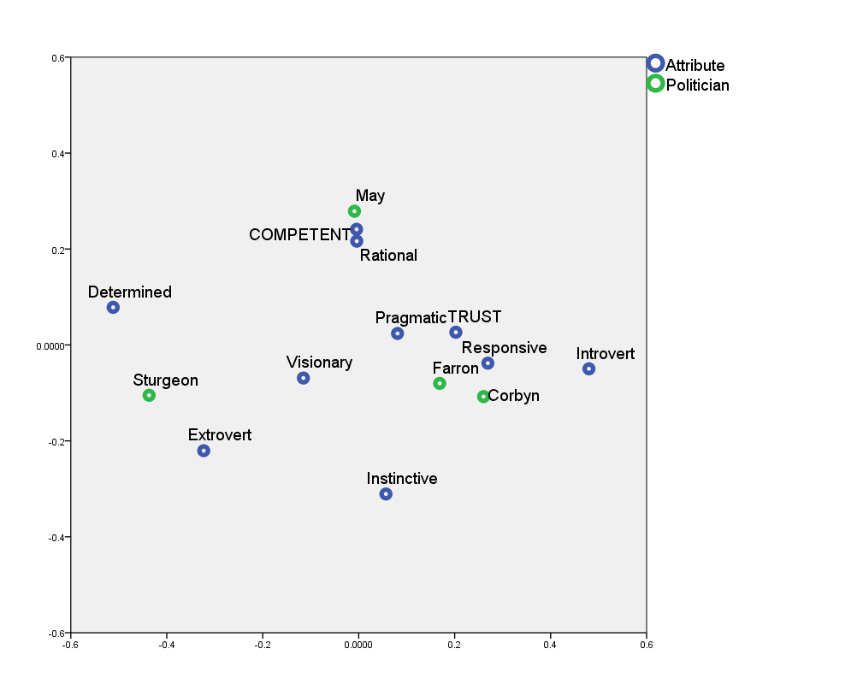 The graphic above summarises the initial findings of the current study.
Politicians as brands
Consumer brands have traditionally used their CEO's as effective marketing tools such as Richard Branson for Virgin, Bill Gates for Microsoft, Steve Jobs for Apple and Mark Zuckerberg for Facebook. Prof Davies says political parties have been both following and leading this trend too.
Indeed his own work on branding companies, services, products and even countries is now being extended to personal branding. In particular he is using one of Carl Jung's theories that we categorise people into one or two of a limited number of 'architypes'.
"We have taken the measures derived from Jung's thinking and converted them to measures that can be used to assess personal brands. We expect our work will be useful in understanding and developing the image of not only politicians but also entertainers, TV presenters, or anyone for that matter who needs to have a clearly defined public persona," he added.
The featured image is taken from Mighty Giant, Manchester based animation designers.
#mightyelection on Twitter to check out more of their election animations