Ken Lever has been appointed as the next Chair of the AMBS Advisory Board and will take up his position on 1 August 2023.
Ken is a UMIST alumnus with a degree in Management Sciences and has been a valuable member of the Advisory Board since 2017.
He is a chartered accountant having qualified with Arthur Andersen where he became a partner, subsequently moving to Andersen Consulting which became Accenture. He has served on the Accounting Standards Board and chaired the Financial Reporting Committee of the 100 Group of finance directors, as well as been Deputy Chairman of the Financial Reporting Committee of the Institute of Chartered Accountants in England and Wales. He is currently on the advisory panel of the Chartered Institute of Management Accountants.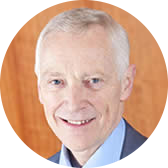 Ken said: "I am thrilled to become the next Chair of the Advisory Board. The Board plays a vital part at AMBS in the development of its strategy, supporting with the development of corporate, institutional and governmental links and offering an external perspective on its socially responsible research and teaching."
Senior roles
Ken has undertaken a series of senior executive roles of UK listed companies. These include at Corton Beach, a manufacturing and distribution business; at Alfred McAlpine, an international construction, house building and quarrying group; at Albright and Wilson, a global chemical manufacturing group; and at Tomkins, a global manufacturing group in the industrial and automotive sectors.
Ken has also been Chief Financial Officer, based in Geneva, of semiconductor manufacturer Numonyx BV and, following the sale of the business, returned to the UK and became Chief Executive of Xchanging, a technology and business services business.
Non-executive positions
Today Ken is a non-executive director at two UK publicly listed businesses – retail automotive company Vertu Motors, and private equity investment firm Rockwood Strategic, while he is also Deputy Chairman of Rainier Developments.
Ken was also the Chairman of Biffa plc, the UK's largest integrated waste management company, and Chairman of RPS Group plc, an international consultancy services business, until the recent sale of both companies earlier this year.
Welcome
Professor Fiona Devine, Head of Alliance Manchester Business School, said: "I am looking forward to working closely with Ken in his new role.
"At the same time I would also like to thank Damaris Albarran for her excellent leadership of the Advisory Board since October 2018. Over the nine years she has been a member of the Board, Damaris has been a great champion of AMBS for which I remain ever grateful."