Our ITMB programme is unrivalled in its level of employer engagement. The programme runs bi-annual showcase and recruitment events, giving you the chance to present your project work to the likes of Accenture, IBM, Credit Suisse, Procter & Gamble and Fujitsu.
Earlier this year, at the end of the first semester, our first year students took part in their first on-campus ITMB showcase. We'll let the employers, our current students and your academics, let you know in their own words why these events are such invaluable opportunities for our students…
Here's what our academics had to say…
"47 fabulous 1st year Manchester ITMB students presenting their projects to 50 employers from 25 companies. A big thank you to our fantastic Alliance Manchester Business School UG team and amazing employers who continue to support me in delivering the best bi-annual industry showcase in the country." Dr Ali Owrak, ITMB Programme Director, Alliance MBS
"It was amazing to see how professional the standard of work was from the first year undergraduates after only 11 weeks on the ITMB programme. The employers were very impressed, a wonderful opportunity for the students, employers and AMBS!" Chris Smith, Senior Lecturer, Alliance MBS.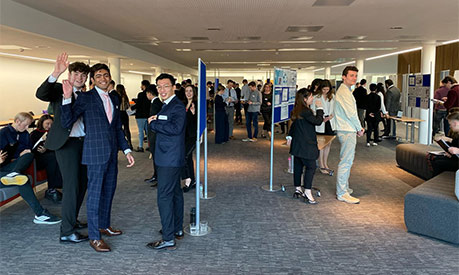 Here's what our students had to say…
"So proud to say that our team were one of the finalists for the ITMB showcase at The University of Manchester this semester. To be given this opportunity within 2 months of University starting, is one that I will cherish for a lifetime. We had been given a project by Credit Suisse, involving designing a mobile application for their relationship managers. Being put in this group of five, all from very different backgrounds has been such a pleasure, and I am so excited to work with all of you on the development of our 'RM suite' next semester. A huge thank you to Prof. Ali Owrak for organizing this event and giving us the opportunity to be judged by top employers." Shreya Sujan, First Year ITMB student, Alliance MBS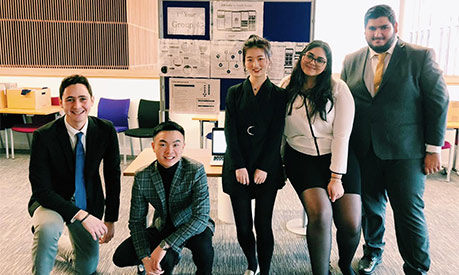 "So proud of my team for getting 2nd place in the 1st year ITMB showcase! It's amazing to have this opportunity only months after starting university. At the start of the semester Credit Suisse gave us a case study and we started to develop a solution for their key problems. I thoroughly enjoyed pitching our ideas and early development of our app to industry professionals from the likes of AWS, Bank of America, Ford, Barclays and more. A huge thank you to Ali Owrak our programme director for organising this event and giving us this amazing experience. Another big thank you to Bank of America for my spot prize." Georgina Powell, First year ITMB student, Alliance MBS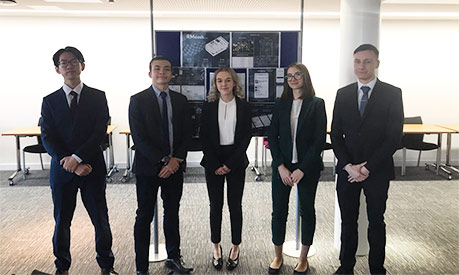 Here's what employers had to say…
"Fantastic energy and discussions with our team, industry and academia collaboration!" Andy Seferta, Head of Ecosystem and Analyst Engagement, Digital Technology Services, Fujitsu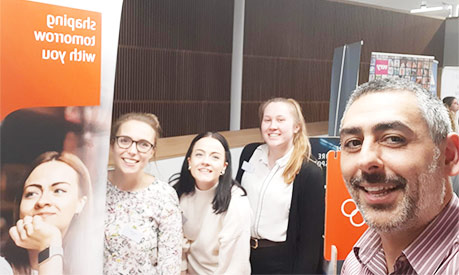 "Proud to represent Bank of America at another great ITMB showcase at Manchester University! Congratulations to all the winners!" David Smith, IT Platforms Engineer & Product Manager, Bank of America
"Another fantastic showcase, amazing to see that each year and each showcase is getting better and better!" Paul Allen, Project Management Delivery Graduate, BAE Systems
"Brilliant day… congratulations to all students involved - very impressive!" Liam Whitehouse, Manager, Technology Consulting, KPMG
"Had a great time at the University of Manchester yesterday representing Ford at the ITMB showcase. This included a tour of the Data Visualisation Lab, judging first year presentations and networking. It was fantastic to see so many students taking an interest in the work that we do at Ford. There was also a lot of talk about our latest product launch the Mach-E! Yesterday reiterated the importance of Ford's presence at these events in order for us to attract the best future talent.
Also congratulations to Ali Owrak for organising the event and bringing in so many different employers. The standard of the presentations was to a very high standard considering the students have only been at university for a couple of months! I look forward to seeing the students expand and develop their ideas." Joseph Dixon, IT Solution Architect, Ford Motor Company.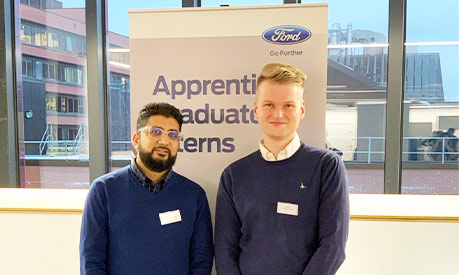 "Had a great day at the University of Manchester yesterday once again for their bi-annual ITMB showcase. It was great to represent Vodafone and raise awareness of our graduate opportunities involving Internships, Industrial Placements and our Graduate Scheme. It was great to see all the students' enthusiasm to get involved with employers. I was particularly very impressed by the first years who have only been at the university for a couple of months yet managed to produce an excellent standard of work in teams and presented very well." Laura Powell, Product Owner, Internet of Things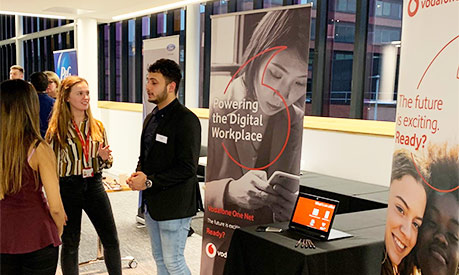 "Great day on Wednesday representing Resulting IT at Alliance Manchester Business School, meeting this year's First Year ITMB students and judging their projects." Helen Collinson, Delivery Manager, Resulting Ltd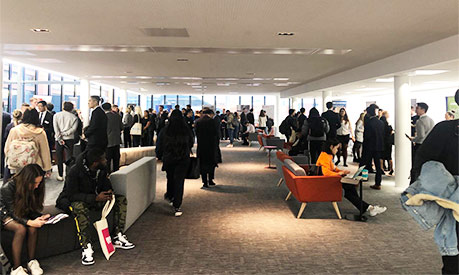 "It was a pleasure to represent Capgemini at The University of Manchester ITMB annual showcase event, speaking to prospective students about our graduate offerings and opportunities. This included a tour around the data visualisation lab and judging of the first year competition/presentations. The quality of presentations and depth of analysis was incredible and I wish you all the best for the second semester!" Thomas Quraishi-Rewaj, Junior Salesforce Consultant, Capgemini UK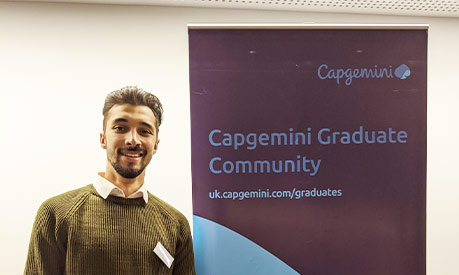 "Had a wonderful day yesterday at the ITMB Winter Showcase. After spending two years participating in the showcase itself, I was invited to contribute to judge and evaluate the participants alongside my colleagues from Bank of America. I can definitely say for sure that the standards have been set high by our new 1st years, who have only spent 8 weeks on the course. Every single team delivered well and we are very eager to see what they can present in the Summer Showcase next semester. Job well done to everyone who participated and thank you to Ali Owrak, organising the showcase as excellent as usual." Owen Naufaldi, Technology Infrastructure IP Intern, Bank of America