On Tuesday 3 March, as part of the International Women's day celebrations, Alliance MBS hosted a conference which welcomed 75 young women from across Greater Manchester to think about their future careers.
The conference saw Alliance MBS host students from Levenshulme High School for Girls; Whalley Range High School for Girls; The East Manchester Academy and Rivington & Blackrod High School and Sixth form. The students were invited to take part in interactive workshops with academics and representatives from the business school, whilst gaining invaluable advice and insight through inspirational life stories from influential local business women.
Students started the day in interactive workshops with Alliance MBS staff and local business leaders covering themes including resilience, personal branding, wellbeing and how to look after your future self. The sessions provided practical advice to the young women and judging by the level of enthusiasm for the workshops, they really engaged with each of the topics.
The afternoon session started off with stories from inspiring women – starting with Assistant Professor in Marketing Ilma Chowdhury who discussed her own journey in marketing and academia. The young women also heard from Christina Milan who explained her own journey into Law and how she is passionate about creating a diverse workforce. She described passionately about how the young women need to start believing in themselves and their abilities to make the most of the opportunities given to them. Debbie Francis, MD of Direct Rail Services echoed these sentiments and added that she had taken herself out of her comfort zone and this made her realise she could do more than she thought.
The day was drawn to a close with the thoughts of the keynote speaker Olivia Stefanino, Motivational speaker and author of two books, "Be Your Own Guru" and "The Money Types Handbook". She told the young women about how important it was to be brave and to be prepared and also to keep learning because the career that you end up with might not even have been invented yet. She shared an experience which would later drive her forward in her success as a woman in business, outlining that the key to success is to have confidence in your actions and determination in following what inspires you.
The day was covered on our Instagram account by Charlotte Hoyland, a first-year PhD student at Alliance MBS. You can take a look at the highlights of the day on our Instagram channel.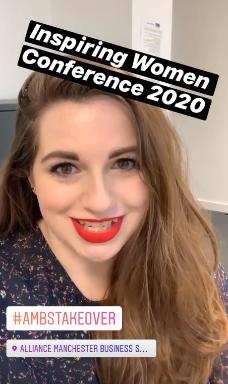 Watch the video below for the highlights of the day: