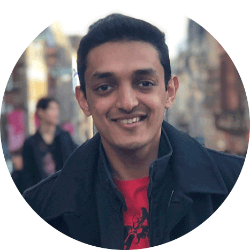 Former student Naman Jain graduated in MSc Innovation Management and Entrepreneurship in 2018. After securing a role at Startup Grind straight after his Master's course, he recently travelled to Silicon Valley in the US to find the best start-up companies from all over the world. Follow his journey below…
Why did you choose to study MSc Innovation Management and Entrepreneurship at Alliance MBS?
"Long before I applied to study at Alliance MBS, I was very clear that I wanted to be an entrepreneur. Going abroad to the UK to do my masters was a huge life decision. I wanted to make sure that I made the right decision and went to a school that offered a course that would help me become a successful serial entrepreneur.
"All my research made one thing clear – Alliance MBS was among the top 10 schools to study entrepreneurship in the world. Fortunately, it was one of the best decisions I have ever made. Not only did I learn a lot of real-life skills, I also made friends with other aspiring entrepreneurs from all over the world.
What were your top 3 highlights of the course?
"It is difficult to justify the experience with 3 highlights because it is the overall experience that collectively brings value to the course. Here are 3 examples of what helped me a lot:
We had a unit called Financial Appraisal and Investment Economics in the 1st Semester which was my absolute favourite. There was no exam, but it was graded based on a team project on discounted cash flow valuation and projection models of a coal-based power plant in the UK. We had to start this on Monday morning and submit on Friday. This meant that we spent most of the days working with our respective teams. It was very practical and I loved the intensity of it.
The quality and diversity of both professors and classmates impressed me. We had professors from different academic and industrial backgrounds from different places in the world and my class was truly very global.
The University of Manchester has a lot of great societies. Although I did not participate in a lot of them, I almost always attended the events hosted by Manchester Entrepreneurs. They had some great speakers on the panels and added a lot of practical knowledge to my masters. There are many others at the University that are great like the Blockchain society that I attended a couple of times. I think all of these additional things add a lot to the whole experience.
What have you been doing since graduation?
"I submitted my dissertation on the 3 September 2018 in Manchester and joined Startup Grind's London office the next day. It is one of the largest communities in the world for start-ups and entrepreneurs with its presence in 600 cities worldwide.
"I, along with a team of 3 others, am responsible for finding and selecting the best start-ups from all over the world to attend Startup Grind's Global Conference in Silicon Valley.
How has your time at Alliance MBS helped you in your current role?
"My Master's course has been helping me more directly than I would have thought. Since I work for Startup Grind, which is a global community for start-ups, the knowledge I gained from studying my Masters can be applied directly to what I do. Concepts taught during the course like 'The Lean Startup' help me a lot while evaluating start-ups, which is a big part of what I do. Some of the assignments and business plans are also very close to what start-ups actually need to create while raising funding from investors. Alliance MBS actually prepared me for what I wanted to do.
What advice would you give to those considering studying at Alliance MBS?
"Everyone is different and benefits from their studies in different ways. One piece of advice that I can give is to take the assignments very seriously. Many of these are directly applicable in the workplace and can be a lot of fun if you get interested in the topic.
"Getting jobs in the UK is difficult, however, it can be done. The Postgraduate Careers Service is very helpful, so please take advantage of that. Try to use personal connections to get interviews rather than relying just on applications. A friend of mine randomly recommended me to Startup Grind and it worked out so well. So network and take advantage of the high quality of students at Manchester!
"Also, watch at least one football game at both Old Trafford and the Etihad Stadium. It's part of the Manchester experience :-)
"I have always been an entrepreneur at heart and for this Manchester is a great place to go to. There are a lot of start-ups in the city and the overall experience has made my desire to be an entrepreneur even stronger."
Read more about MSc Innovation Management and Entrepreneurship >>
Read more about studying for a Master's degree at Alliance MBS >>