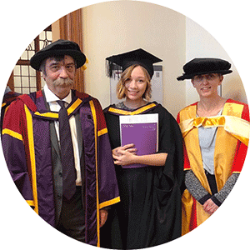 Galina Gerashchenko graduated from the MSc Business Analysis and Strategic Management course in 2018 and is now working in the UK as a Business Support Consultant.
Why did you choose Alliance MBS?
There were several factors influencing my decision to choose Alliance MBS…
First of all, my friend studied their undergraduate degree here and word of mouth worked as I decided to look closer at Alliance MBS. Then I was attracted by the high rankings of the University globally and by the interesting programme my Masters offered. I think the crucial part was that the course included a client-facing project over the summer as it allowed me to learn good theoretical knowledge in the classroom and actually gain some real work experience.
What were the top 3 highlights of your programme?
I studied the MSc Business Analysis and Strategic Management course and I loved it! As I mentioned above, the crucial point was the client-facing project and talking to my classmates, I learned that they thought the same.
The second highlight was the course units offered. They were all practice-oriented, especially when I remember my undergraduate studies in Russia when it was just theory in most cases. I liked our professors, they were always ready to start an interesting discussion on the topic and ready to help with the material or project. Laszlo Czaban who was also my supervisor during the client-facing project was my favourite. He taught me how to think like a consultant and how to approach the project, as well as other great models and tools to analyse a business model of a company and possible constraints.
The third highlight was the international experience. My class had people from all over the world: Germany, France, Vietnam, Malaysia, Jordan, China, Italy, USA, etc. This taught me how to work with people from different backgrounds and cultures and I believe it will be really useful for my career development.
How has your career developed since graduating?
Before receiving my final grades and graduating, I received two offers. The first one was from Risktec Solutions, the company I worked for on the client-facing project. The company created a position suitable just for me – Business Support Consultant. The second offer was from Futuresource Consulting as a Graduate Consultant. I decided to accept Risktec's offer as I would be able to develop myself in different business areas and industries.
Now I am managing several strategic projects including geographic expansion to Saudi Arabia and the creation of the first Risktec app, I am responsible for corporate reporting and I am also part of the Marketing team, suggesting various improvements to our Marketing Strategy. Soon I will also be responsible for reporting in Google Analytics.
What advice would you give to anyone considering the MSc Business Analysis and Strategic Management course?
I would advise joining it if you would like to work for a consulting company in the future. I advise future students to attend all the lectures as it is very difficult to keep up with the material if you don't listen to the lecturer and are just reading the books.
I would also advise planning in advance what course units you would like to study in the second semester. The course offers you an opportunity to choose elective units from other Masters courses at the School and I heard really good feedback about the Data Analytics and Innovation and Entrepreneurship units, for example.
Finally, if you want to get a job in the UK, start searching as soon as you join the class. It is more difficult for international students as we need to find a company to sponsor us, but it is possible. It just requires constant self-improvement, dedication and hard work.
Read more about MSc Business Analysis and Strategic Management >>
Read more about our other business Masters degree courses >>